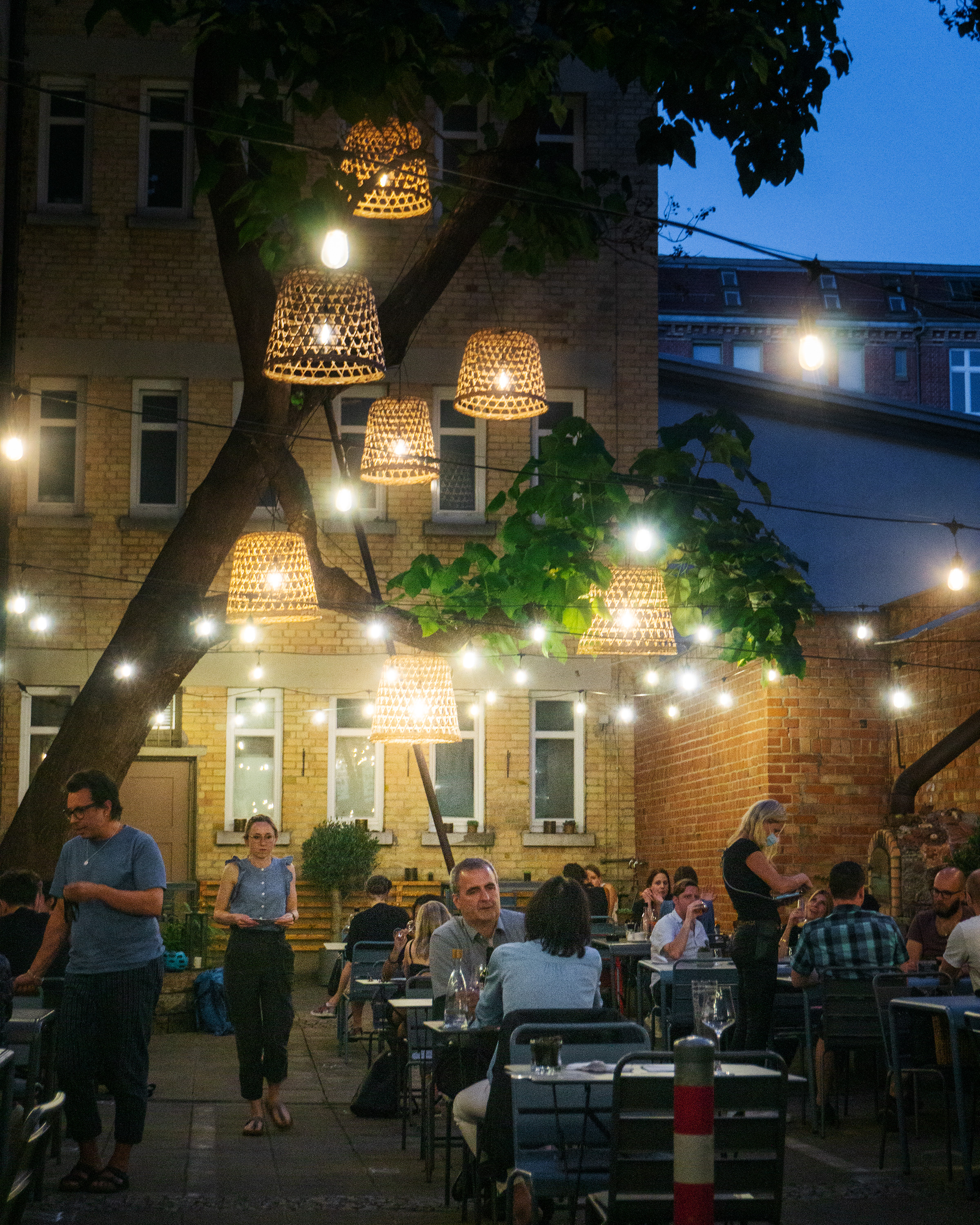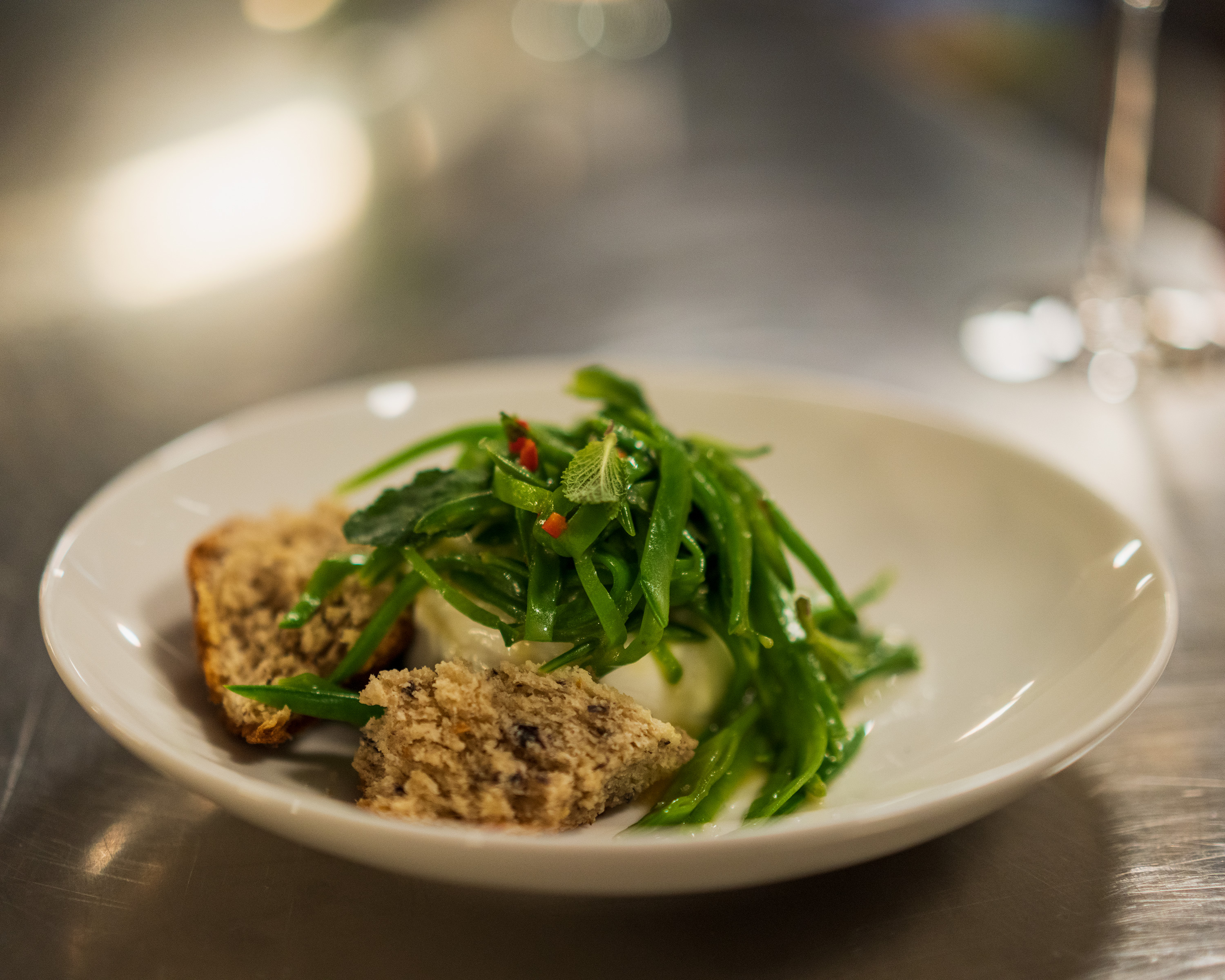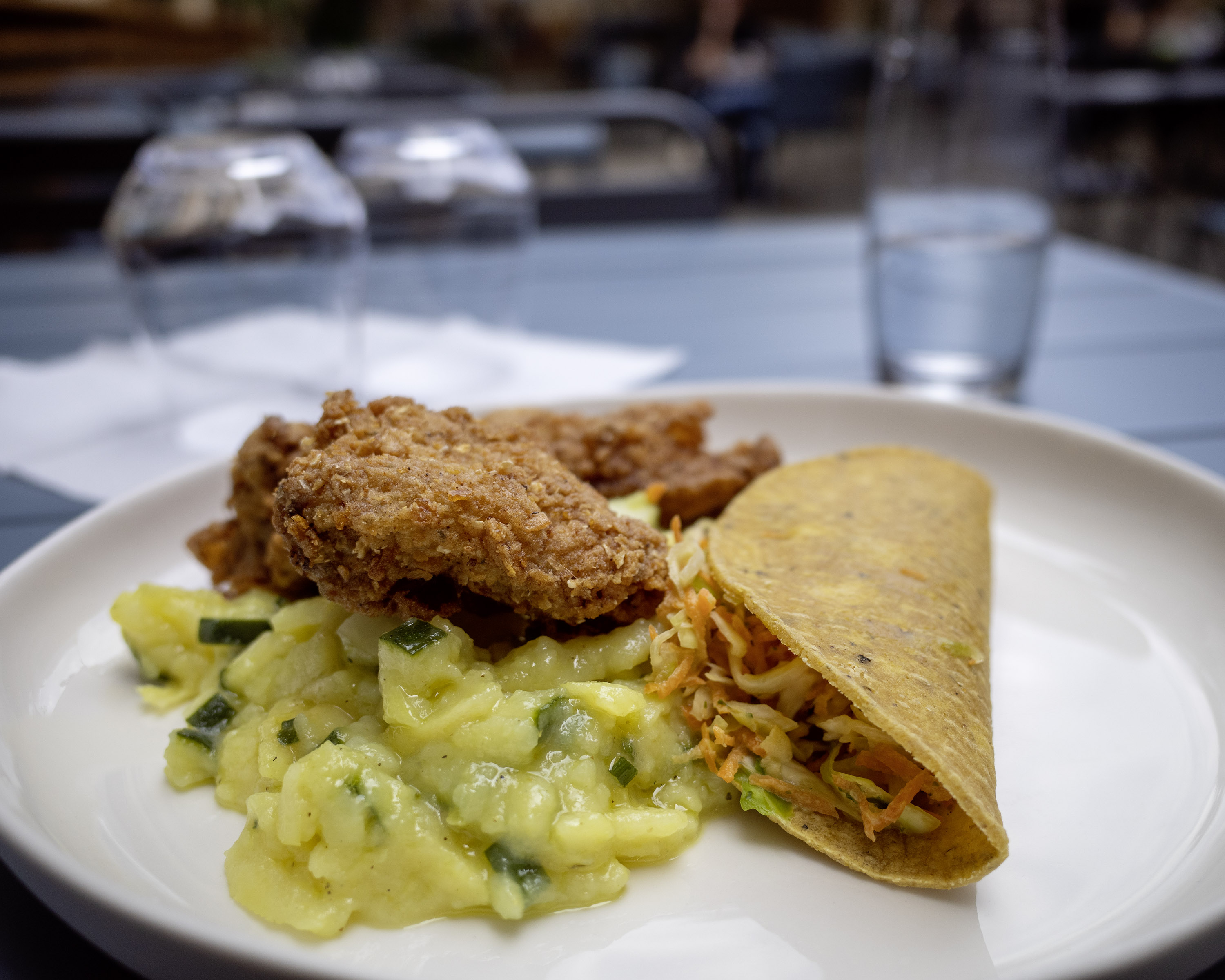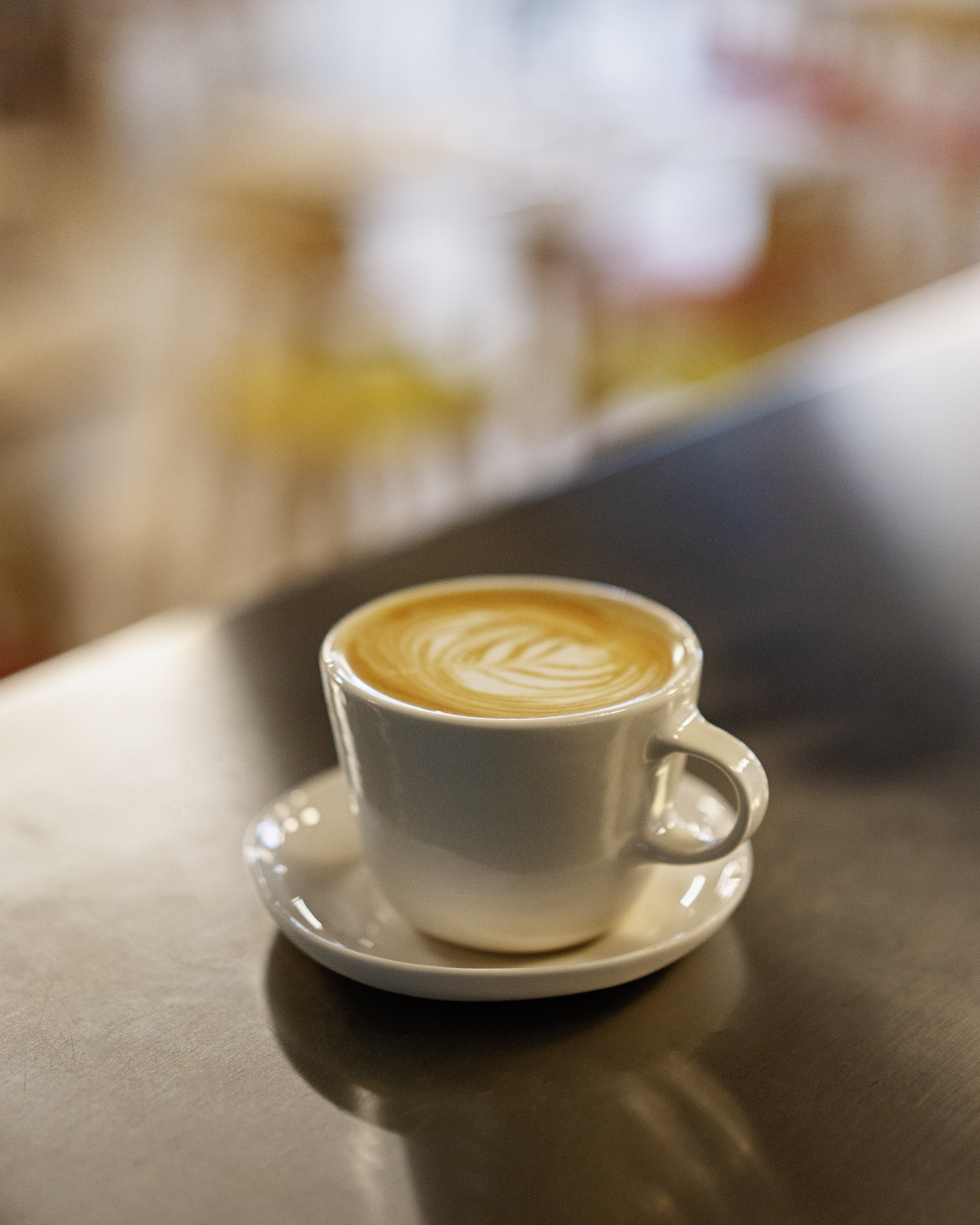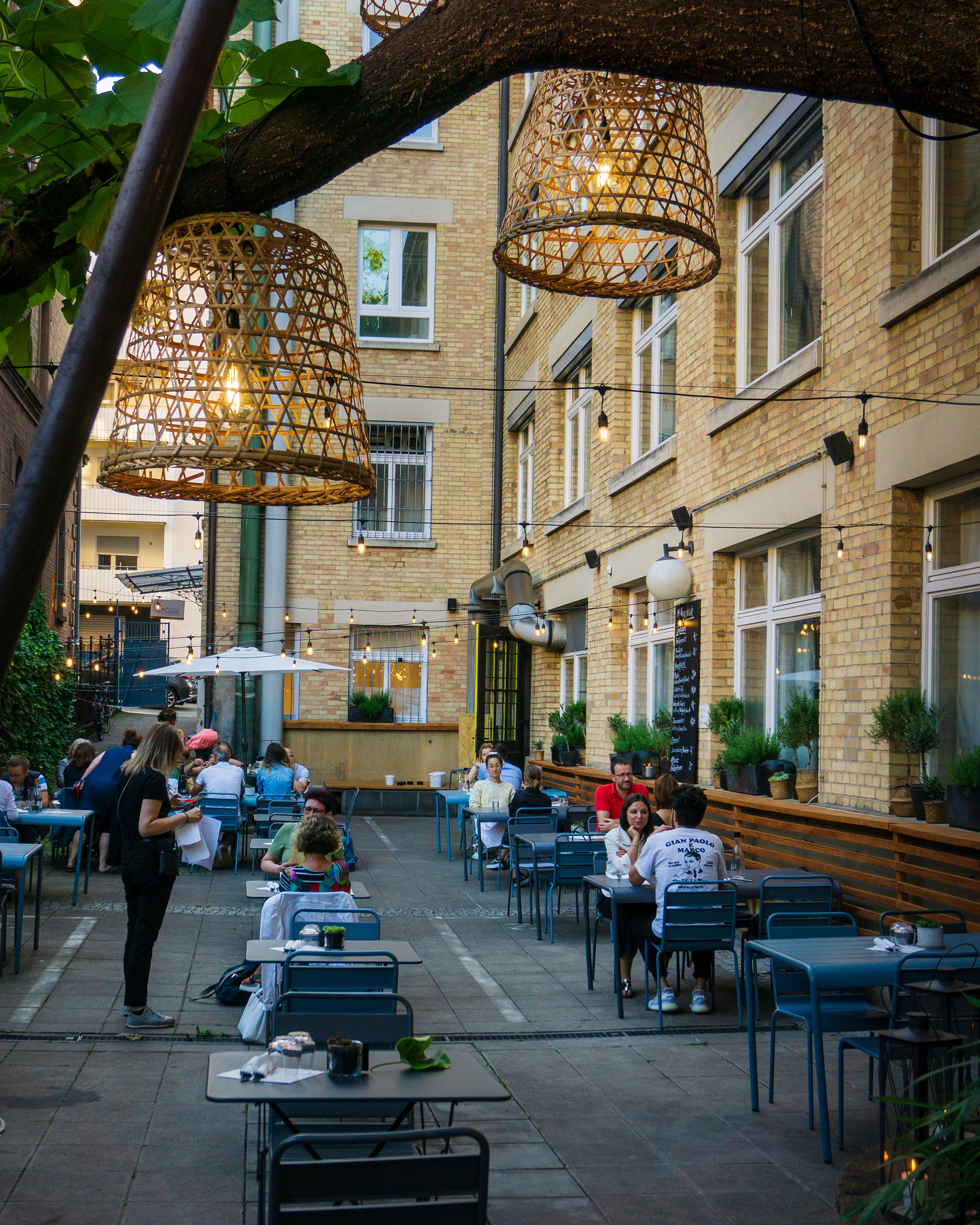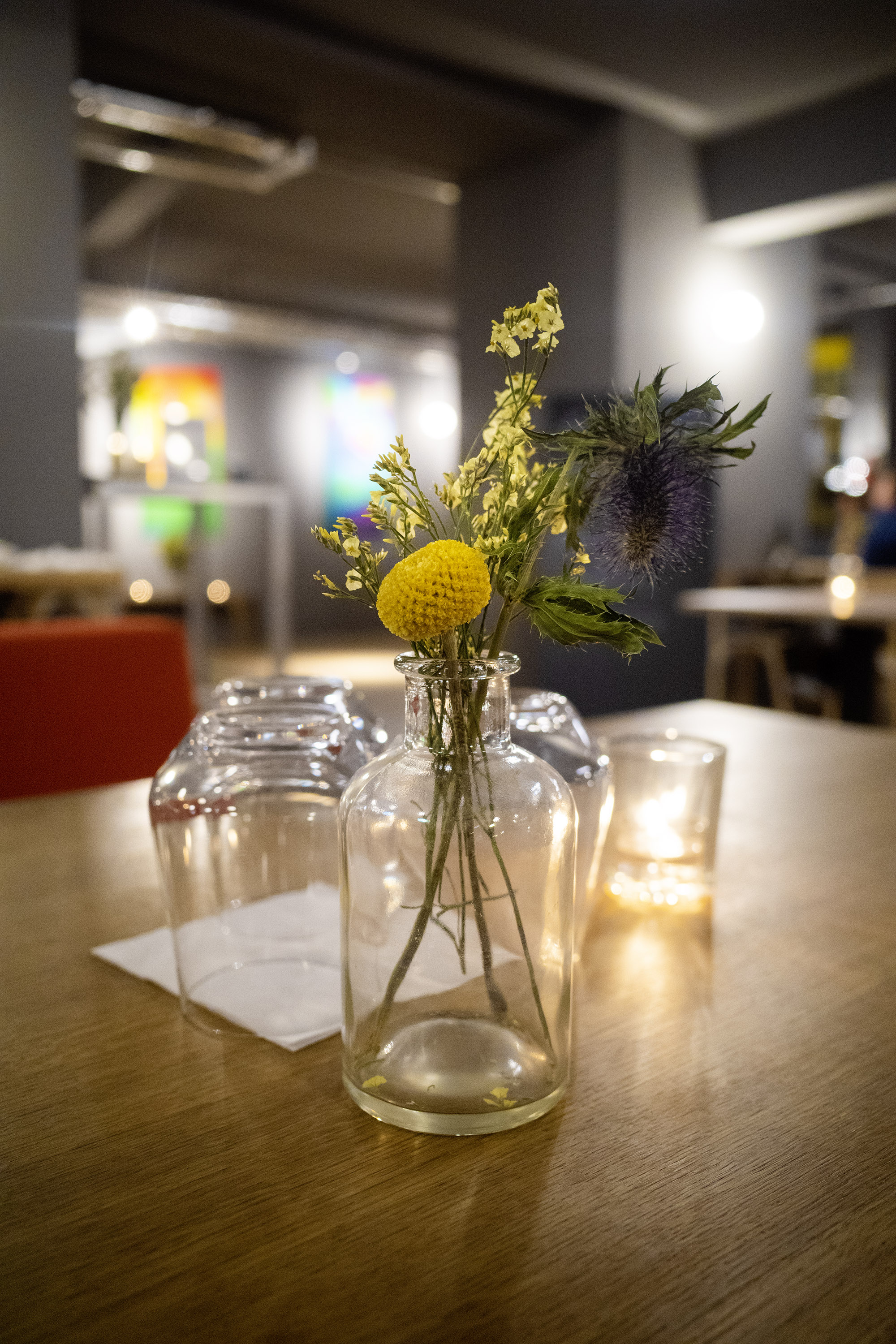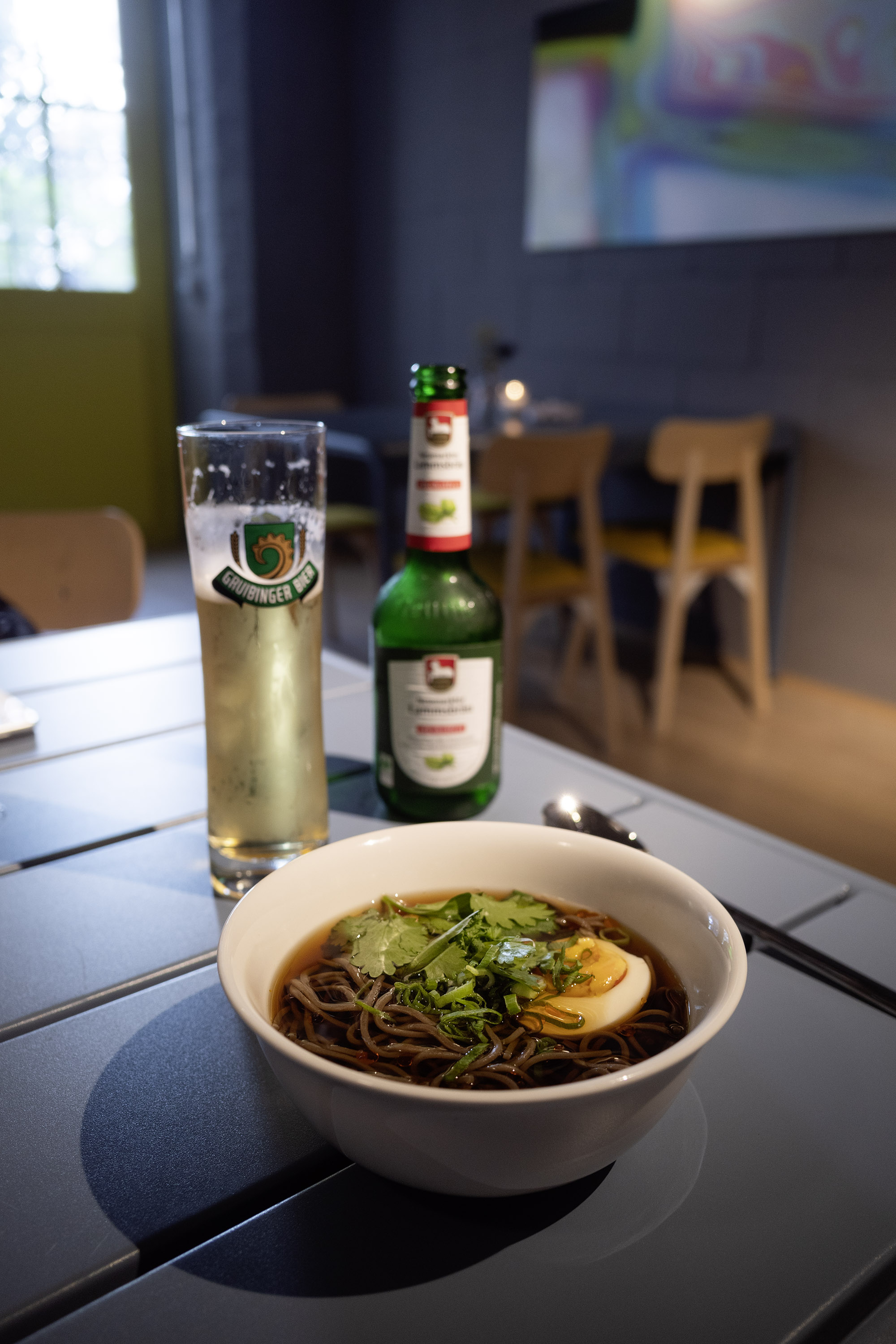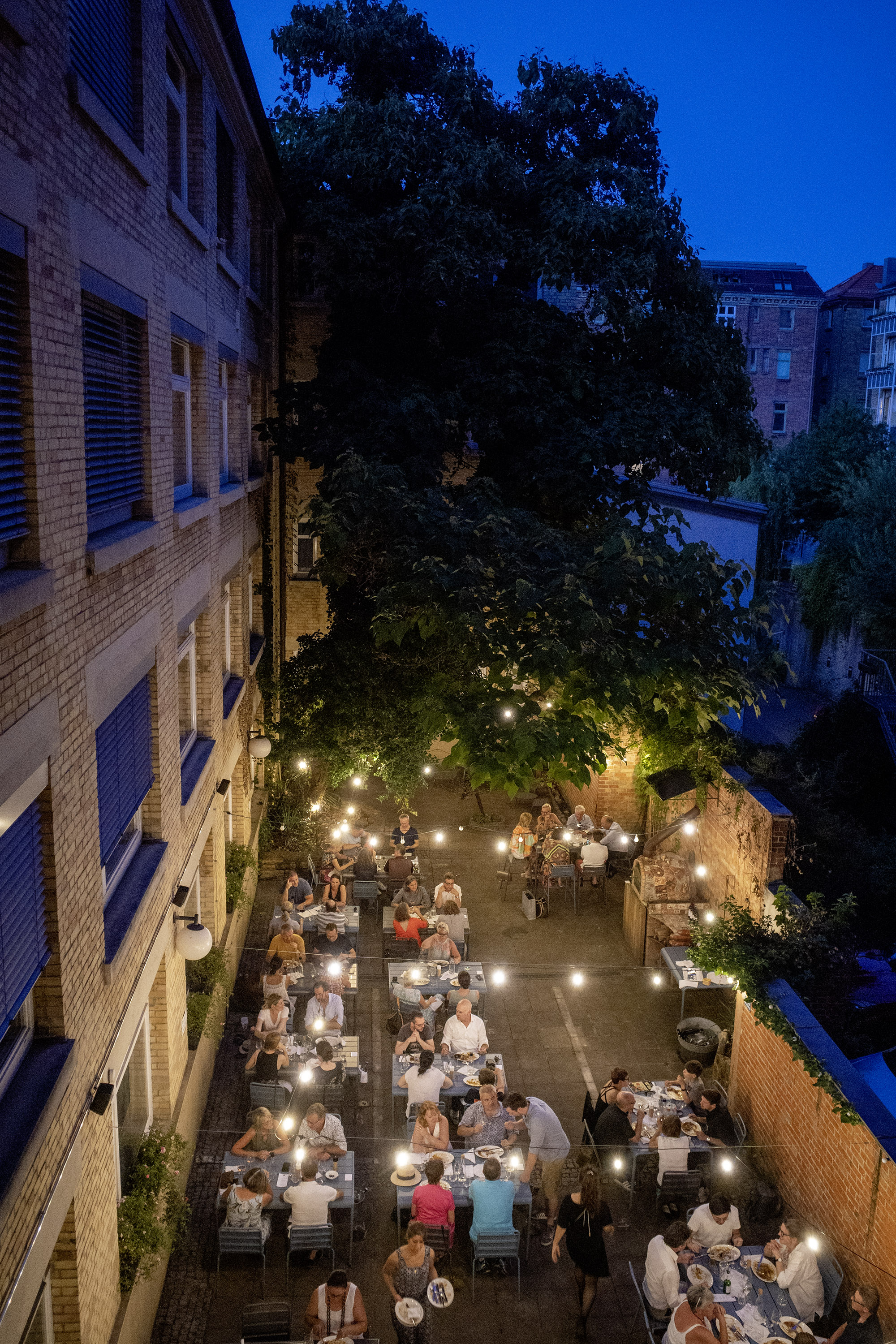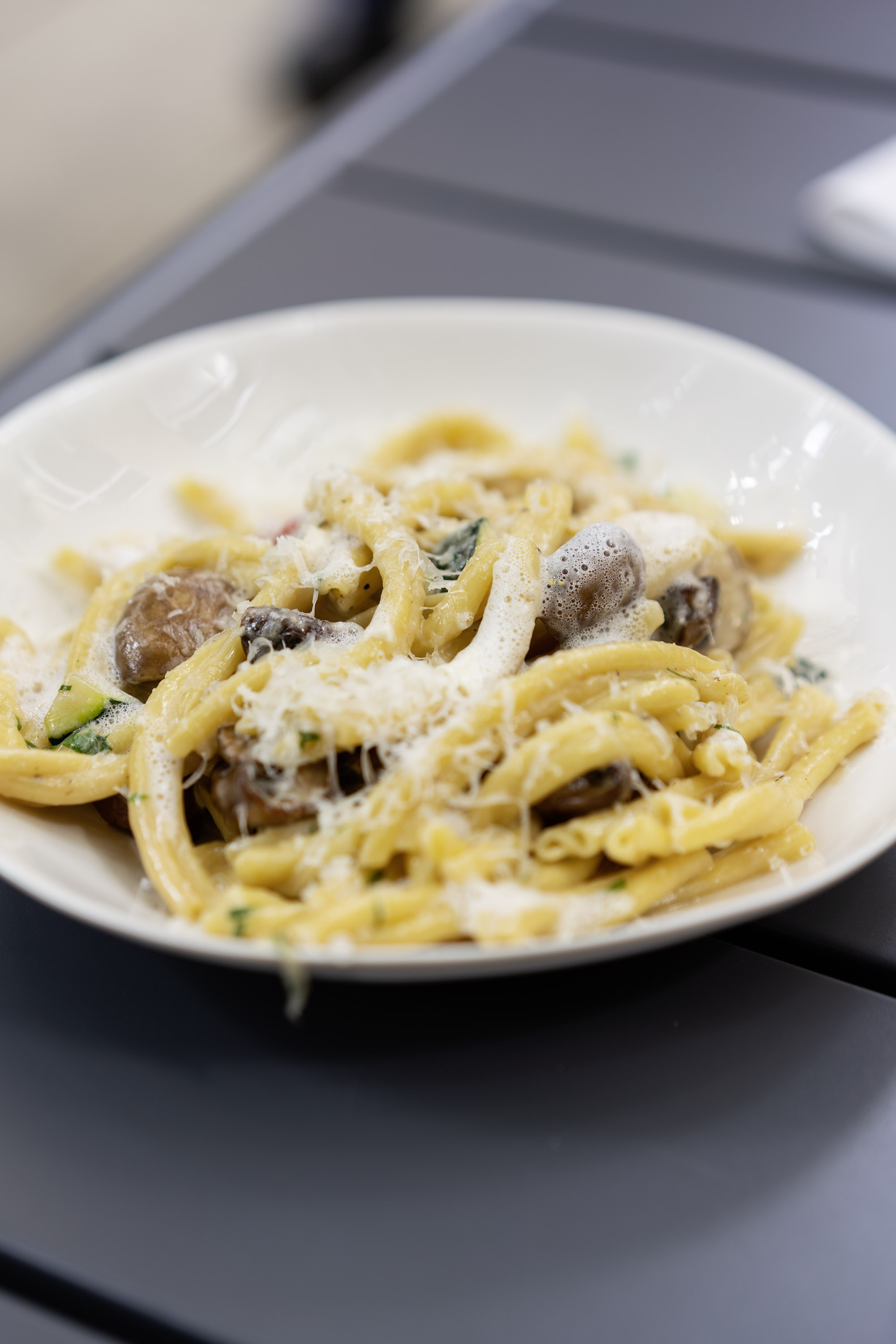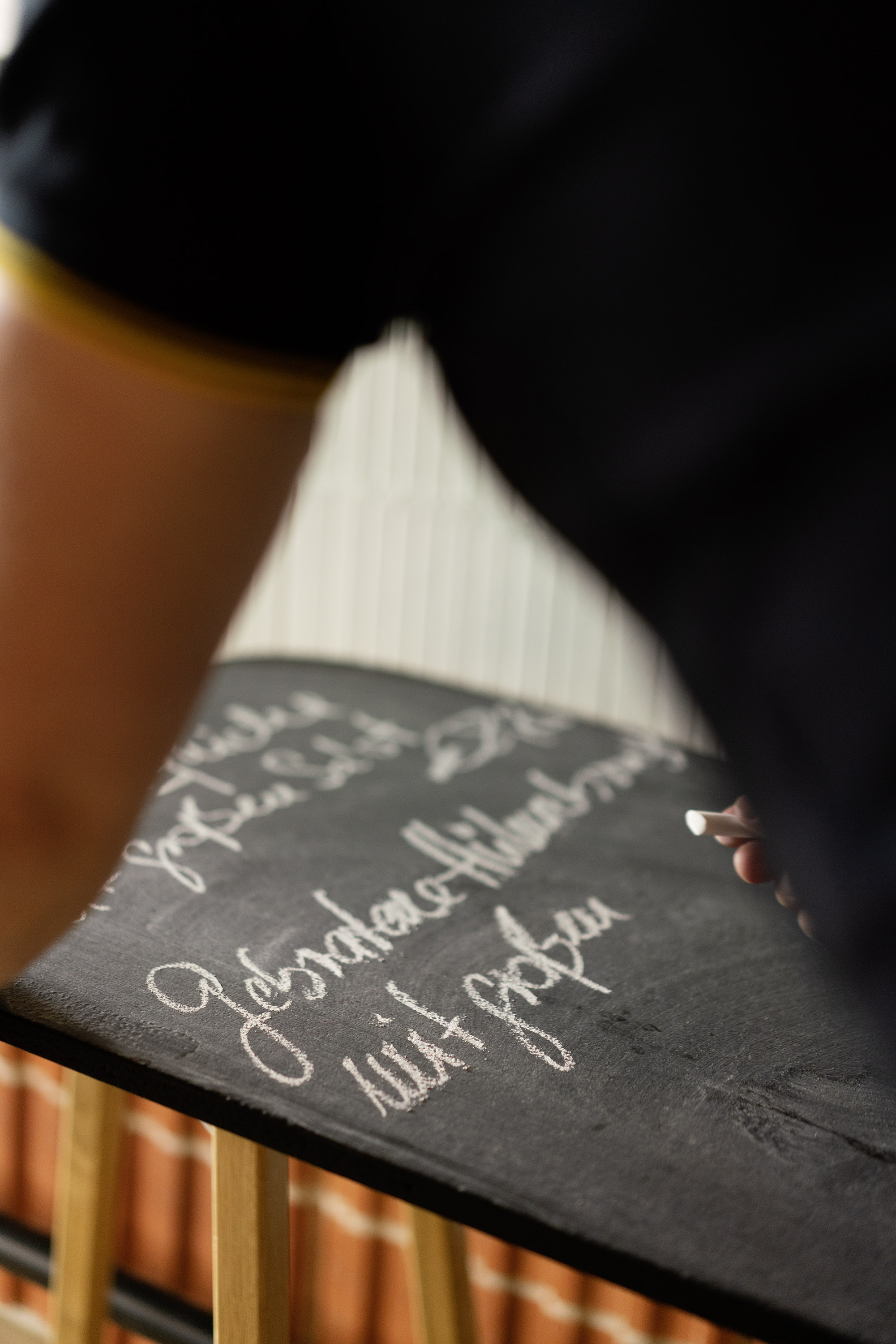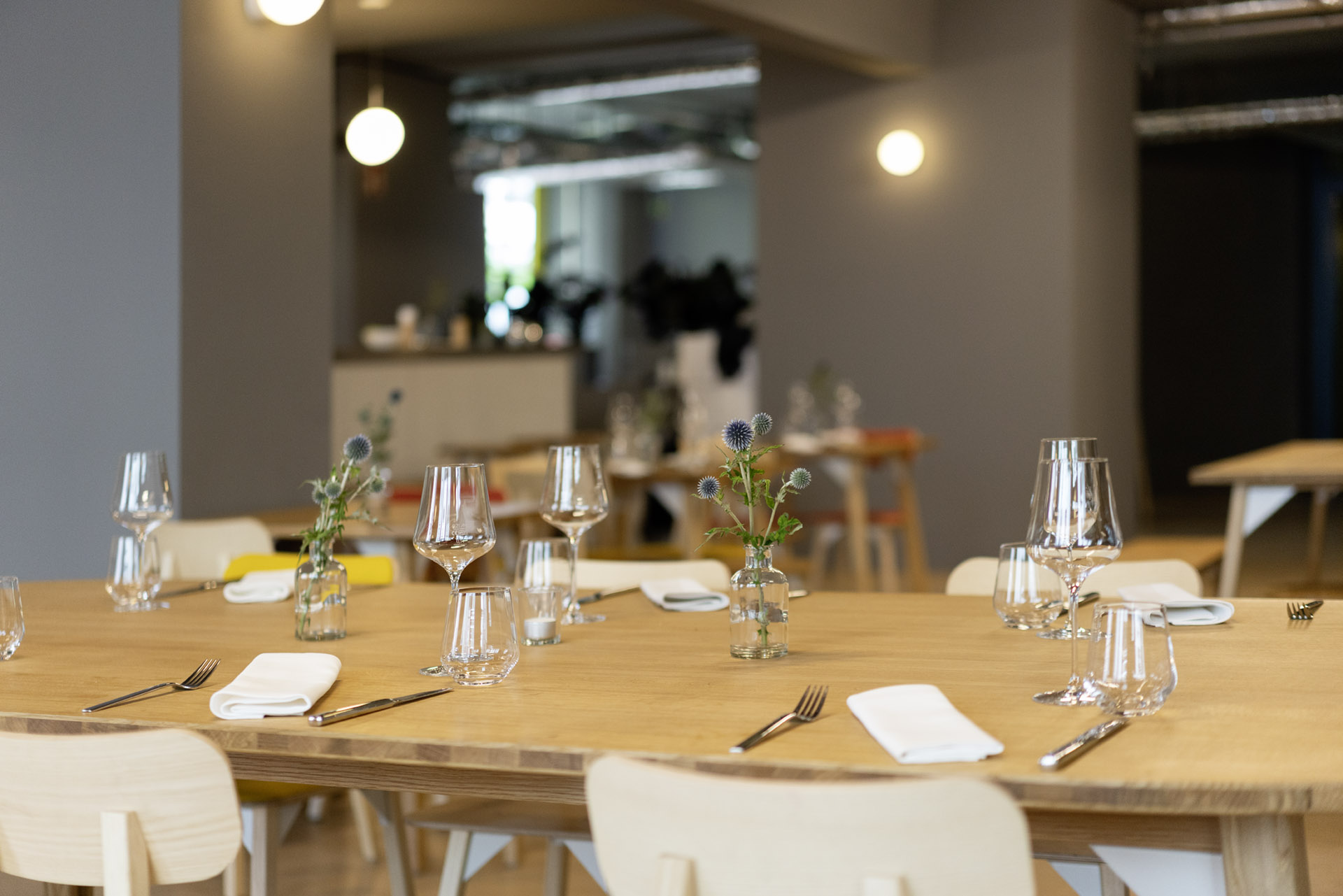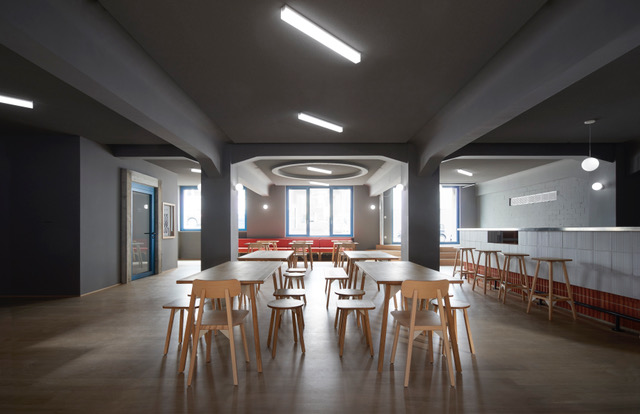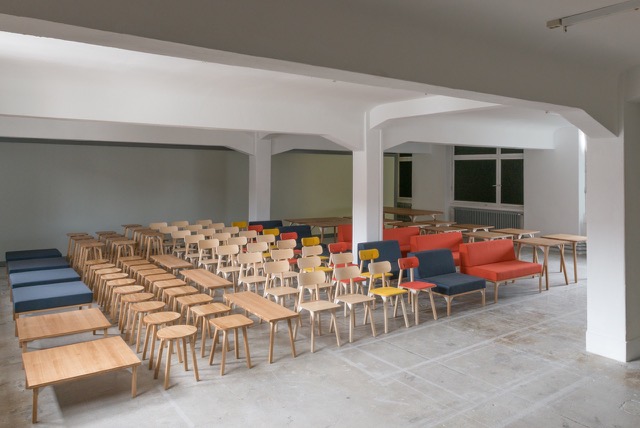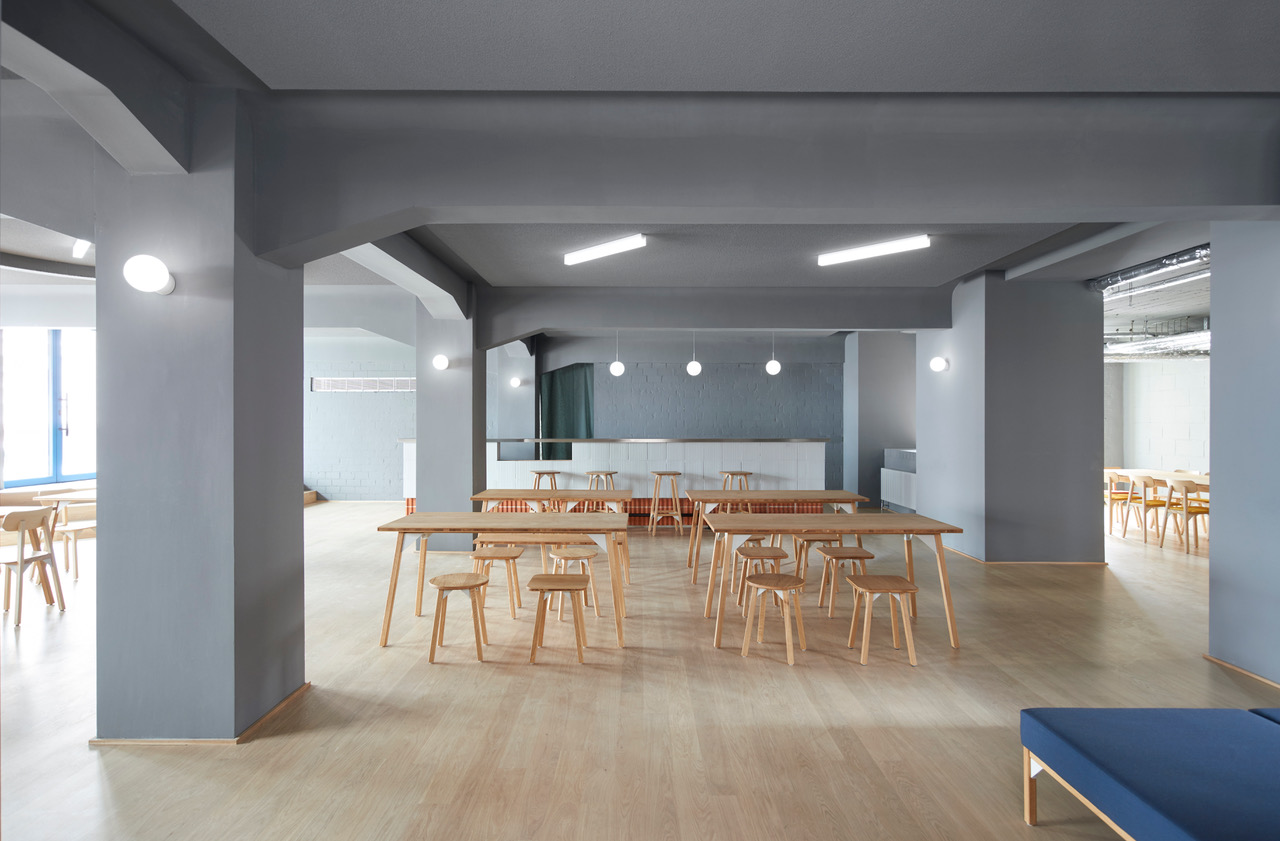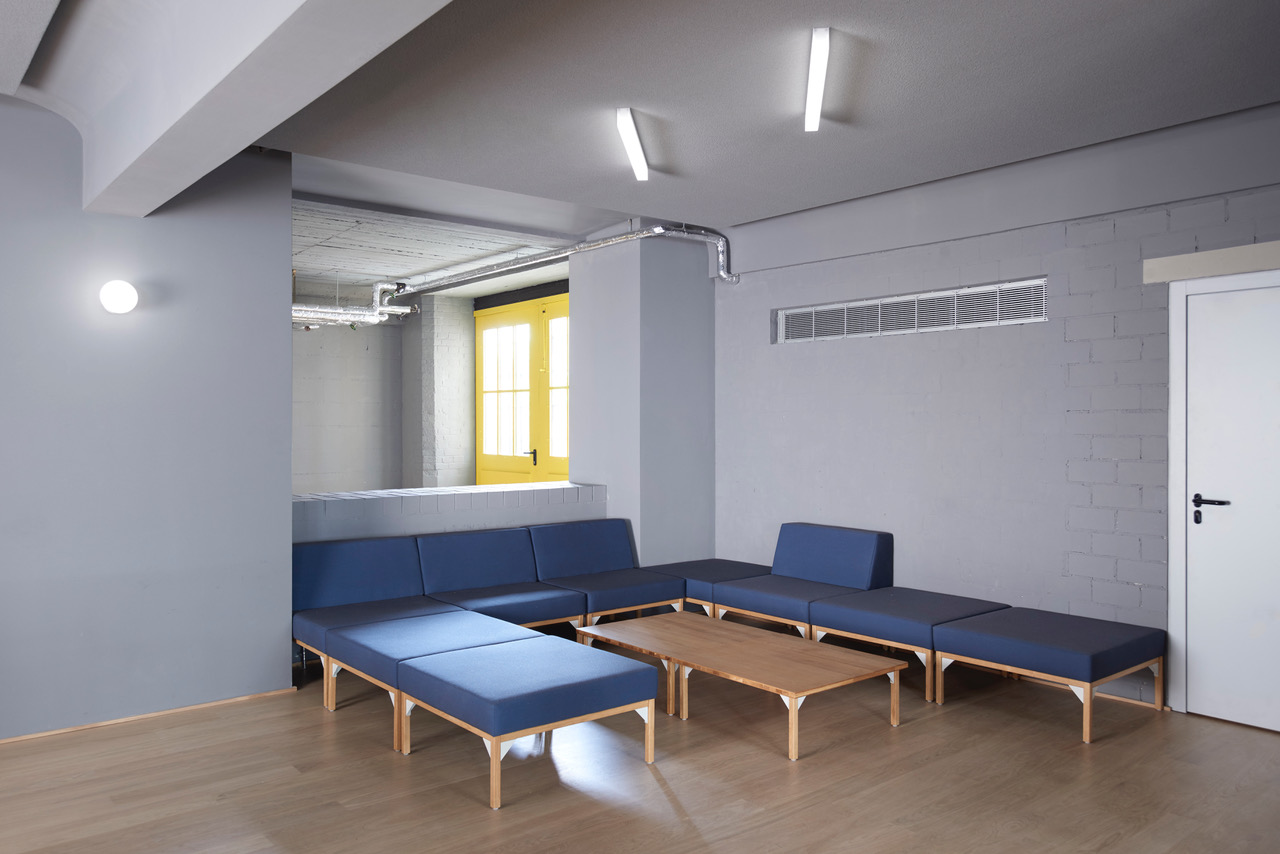 The restaurant
Im Künstlerhaus
is open from Tuesday to Saturday and offers a changing lunch menu as well as a restaurant service every evening. Sebastian Werning, the proprietor, previously worked for Vincent Klink and Martin Öxle and has also been the proprietor of bo'teca di vino since May 2011. He is a trained chef and his previous posts include a year and a half at the Auberge du Soleil in Napa Valley, California, USA.
Architecture
The City of Stuttgart has appointed the two studios Simon Jones Studio and Matheson Whiteley to redesign the entrance and ground floor public spaces of Künstlerhaus Stuttgart. The London-based design team is supported by local architects härtner ito architekten. The redevelopment is funded by the City of Stuttgart and was completed mid-2018 to coincide with the 40th jubilee of Künstlerhaus.
Since its formation in 1978 within a former luggage factory, the Künstlerhaus Stuttgart has been a space for artistic production and exchange. It comprises an exhibition programme of contemporary art alongside a studio and workshop programme. An artist-run café and bar operated from the ground-floor during its first decades of activity. This successfully provided a key meeting point and space of exchange for the local artistic community. Through a process of research and dialogue, this original café and bar emerged as an important precedent for the present design team, guiding the redevelopment project.
Simon Jones's and Matheson Whiteley's proposal has three objectives: Firstly, to re-establish the main Künstlerhaus entrance directly from Reuchlinstraße, restoring connections between the studios, exhibition spaces and workshops. Secondly, to address the changing nature of creative work, providing visitors and audiences with a new public space for meeting and working at a moment of high-rent and scarce studio space. And thirdly, to create a new bar and gastronomy, which will cater to the artistic community and local neighbourhood, providing a social space, hangout and meeting point with regular concerts, events and performances.
The Künstlerhaus Stuttgart redevelopment project was initiated as part of the curatorial programme of Artistic Director Fatima Hellberg and realised in close collaboration with the 1st Chairperson of the Künstlerhaus Board, Dr. Hannelore Paflik-Huber and the General Manager, Romy Range. The project reflects upon the history and spirit of the institution, identifying ways in which its founding roles and ambitions can inform the present moment. The rebuild coincides with four decades of artistic work and exhibition making, experimentation and knowledge production at Künstlerhaus and seeks to nurture the avant-garde legacy of the institution, while addressing current needs for a social and public space in the city of Stuttgart.
MATHESON WHITELEY is a London based architectural studio established by Donald Matheson and Jason Whiteley in 2012. Completed projects include art galleries for Stuart Shave/Modern Art in London and Foxy Production in New York. Current projects in design or construction include a new showroom for Alexander McQueen in London, the redevelopment of a large commercial building in Hamburg and a new house and studio in Suffolk for the artist Ryan Gander.
Furniture
Designed by Simon Jones Studio, "Bracket furniture" is made from ash, oak and fabric from Kvadrat to create an unusually folded metal bar that serves as a corner reinforcement for a table, chair, sofa or bench, and the structural shape of existing ones, picking up columns and beams. The furniture is light, flexible and designed to be made by members of the Künstlerhaus in its own workshops.
In this case, the spirit of creativity, participation and responsiveness is greater, the history and the spirit of the Künstlerhaus Stuttgart are reflected in which the institution corresponds to the roles and ambitions.
Simon Jones Studio is a multi-disciplinary design practice based in London. Their work combines architectural projects, exhibition design and furniture production, and hands on making. The practice is centred around the workshop with a particular focus on materials and detail. They work with numerous London arts institutions and organisations such as Raven Row, The Design Museum, Studio Voltaire & Allied Editions and collaborated with Fatima Hellberg on her first exhibition as artistic director at Künstlerhaus. They produce their own collection of tables & seating, and have recently designed furniture for HAY and IKEA.