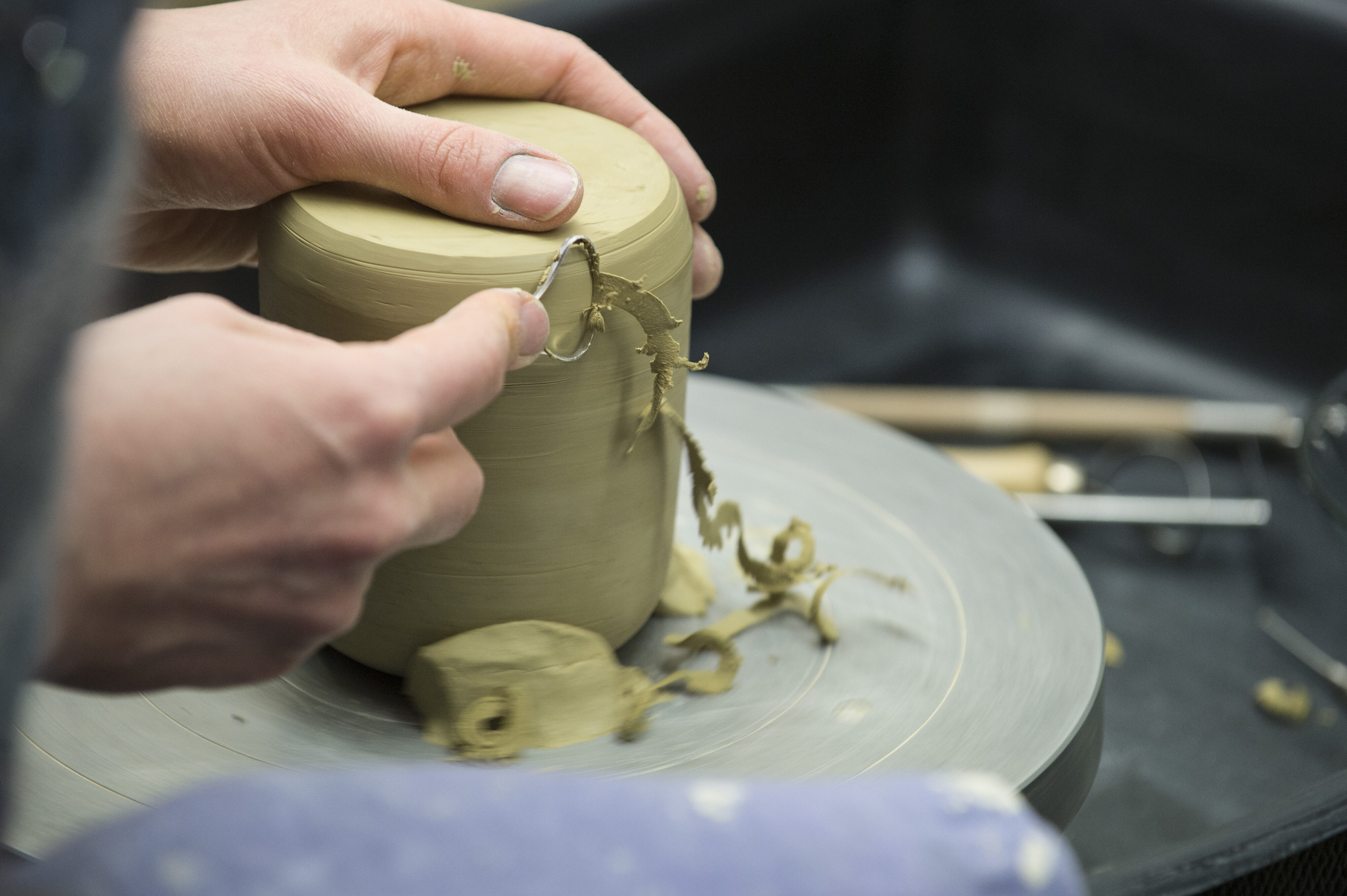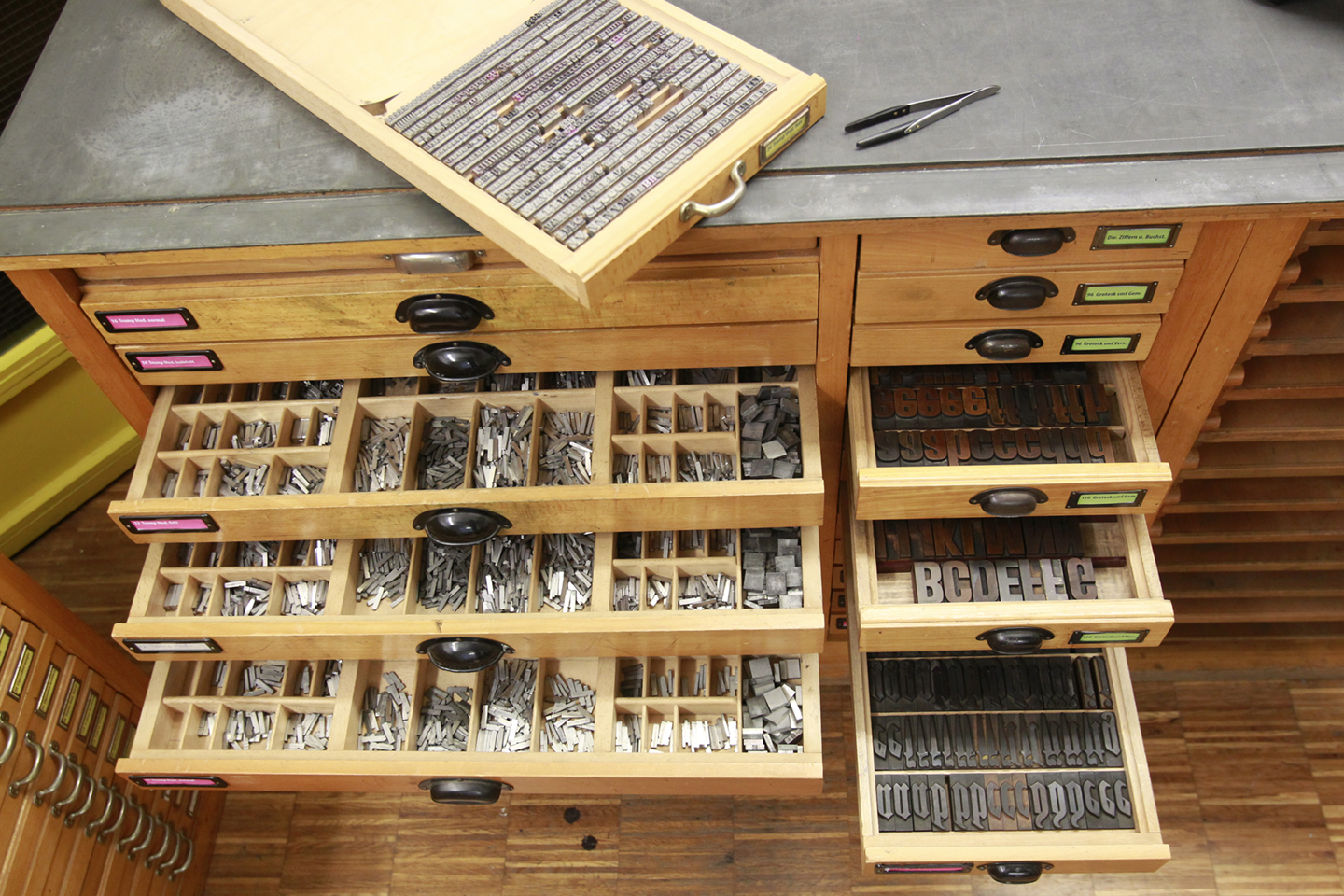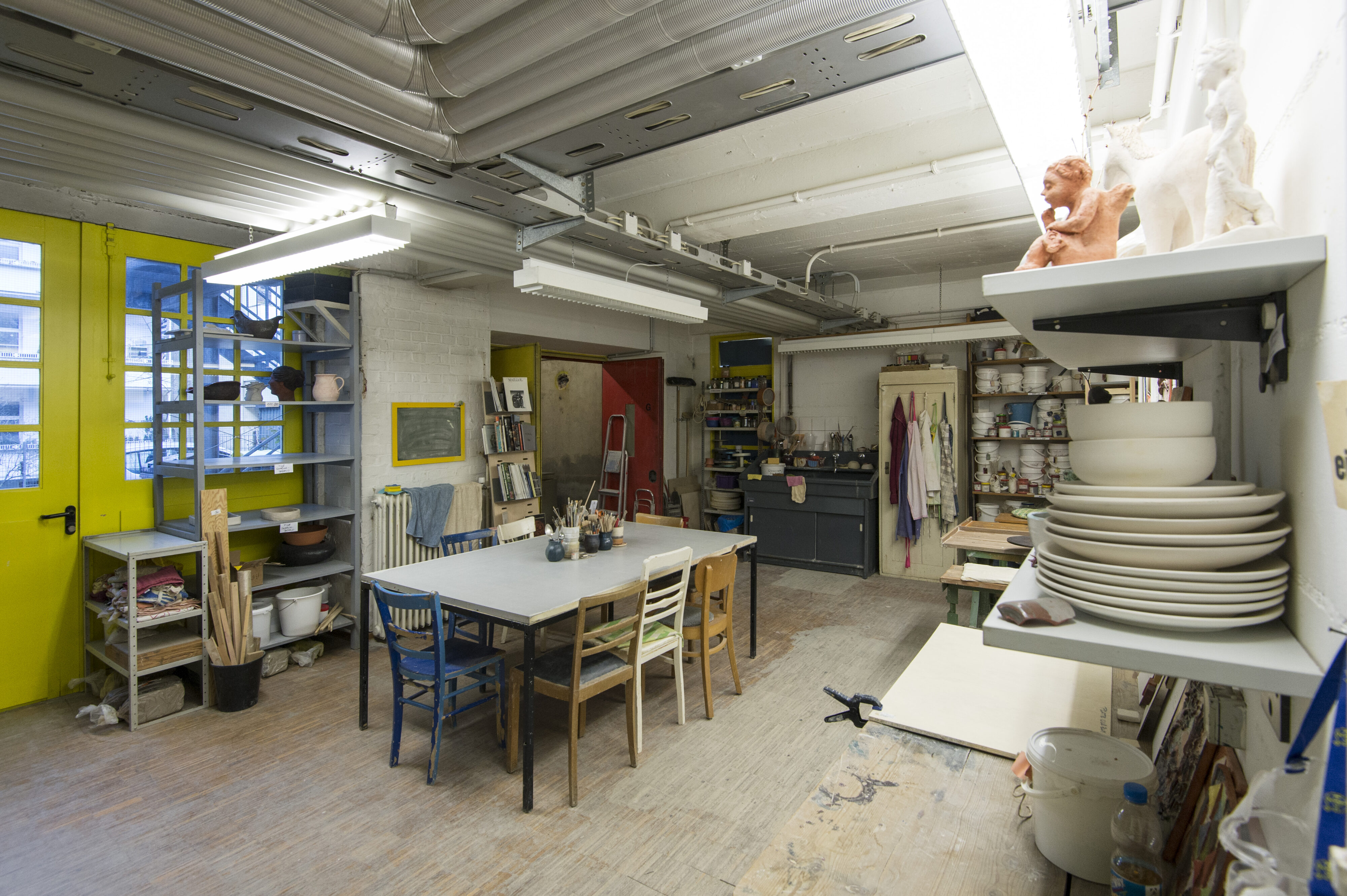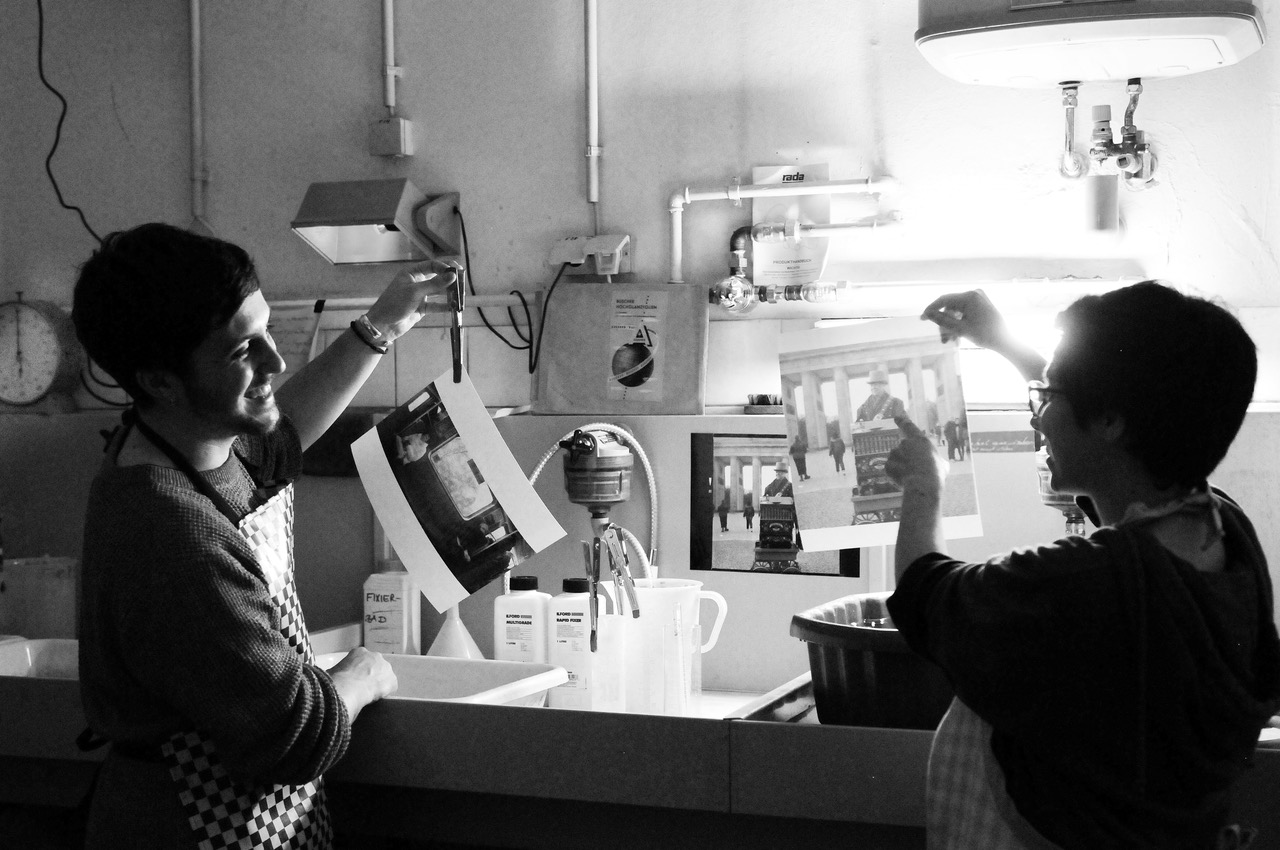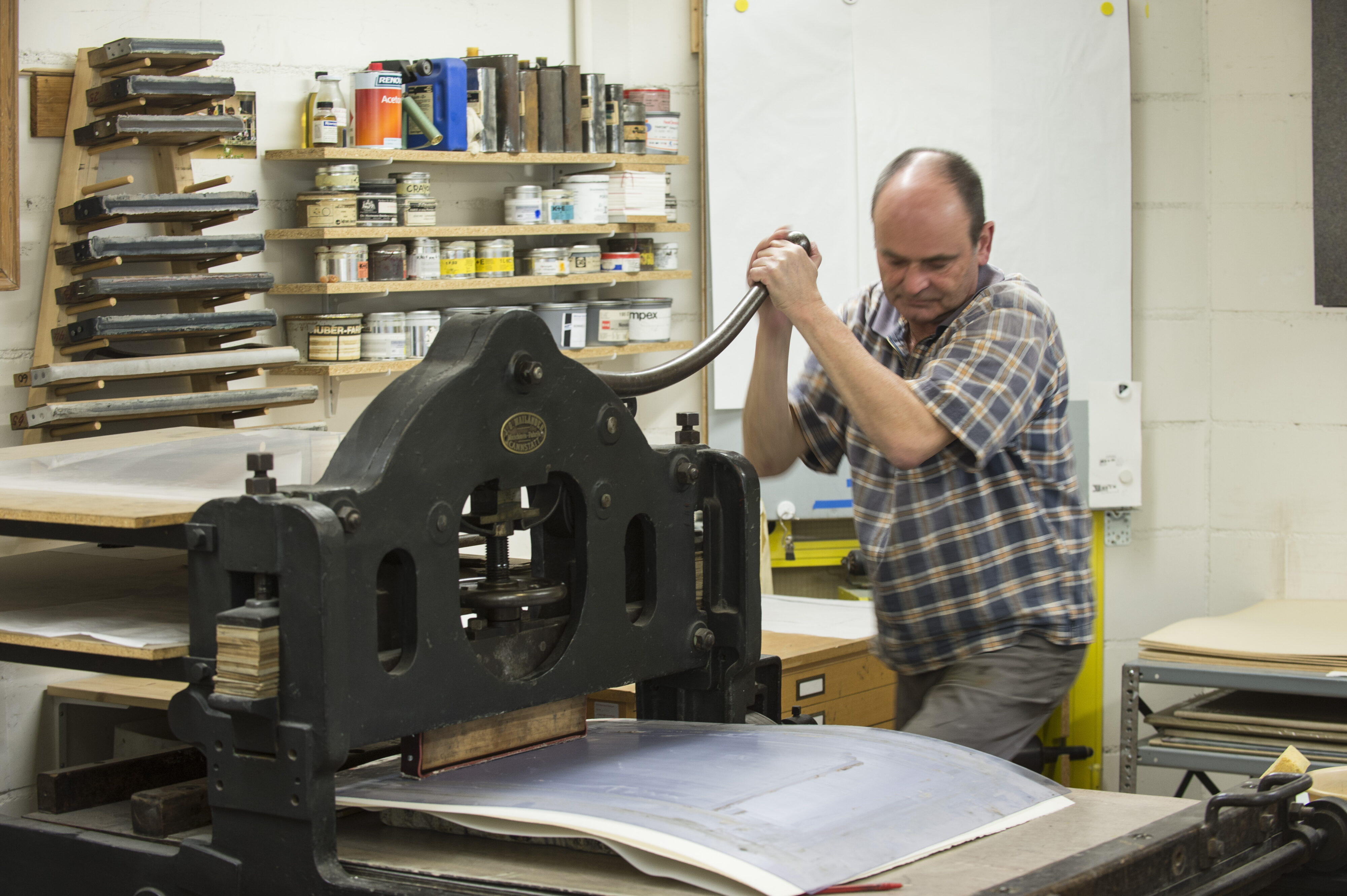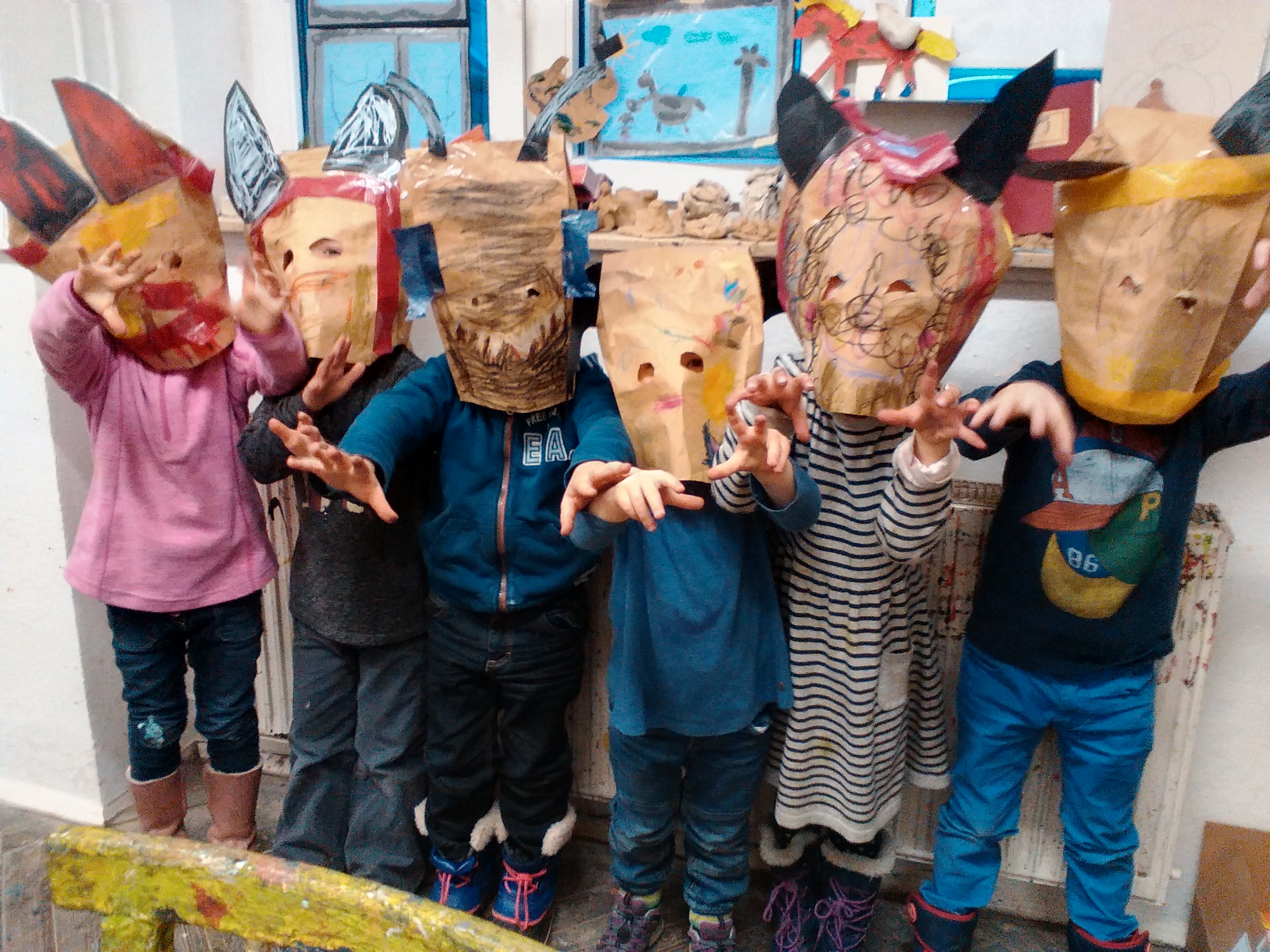 Our
workshops
offer regional artists the necessary production space to realize artistic projects and enable exhibiting international artists to create site-specific projects in-house. The workshop managers support artists in the realization of their projects. The workshops (audio, film, video, photography, various printing techniques, and ceramics) are located on the Künstlerhaus premises. We also offer regular introductory courses and themed seminars. An introduction to the relevant workshop by the workshop managers is a prerequisite for use of the workshop, as is membership in the Künstlerhaus Stuttgart. Please contact the relevant workshop manager for information about the courses offered. Bookings for the workshops may only be made through our online booking system.
Workshop rules
Prerequisite for the use is an introduction to the respective workshop by the workshop leader and a membership in Künstlerhaus Stuttgart. You can inquire about the courses offered by the respective workshop leaders.
Registration for the use of the workshops (screen printing, ceramics, etching, lithography) is only possible through a reservation via our online booking system. Registration for the photo lab, the sound studio and the media workshop can be made via e-mail at info@kuenstlerhaus.de or by phone at 0711 617 652. For the children's workshop, please contact the workshop leader of the children's workshop.
Each reservation is valid for one person only, i.e. the use of the workshops is limited to one person.
CURRENT
General hygiene rules continue to apply under the Baden-Württemberg Corona Ordinance.
Please keep the required distance of at least 1.5 meters to other users:inside as well as to the staff.
Please wear an FFP2 mask throughout the building.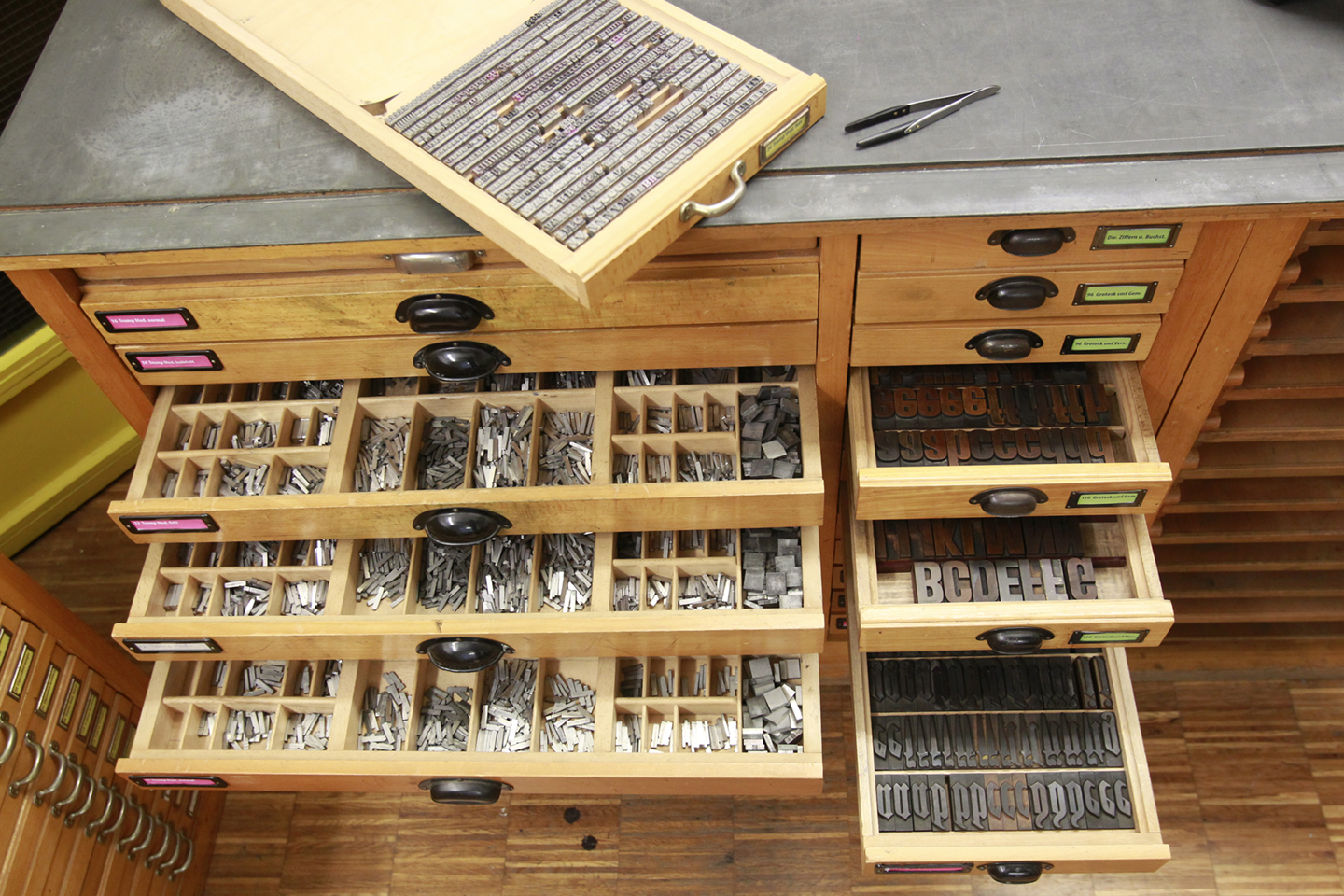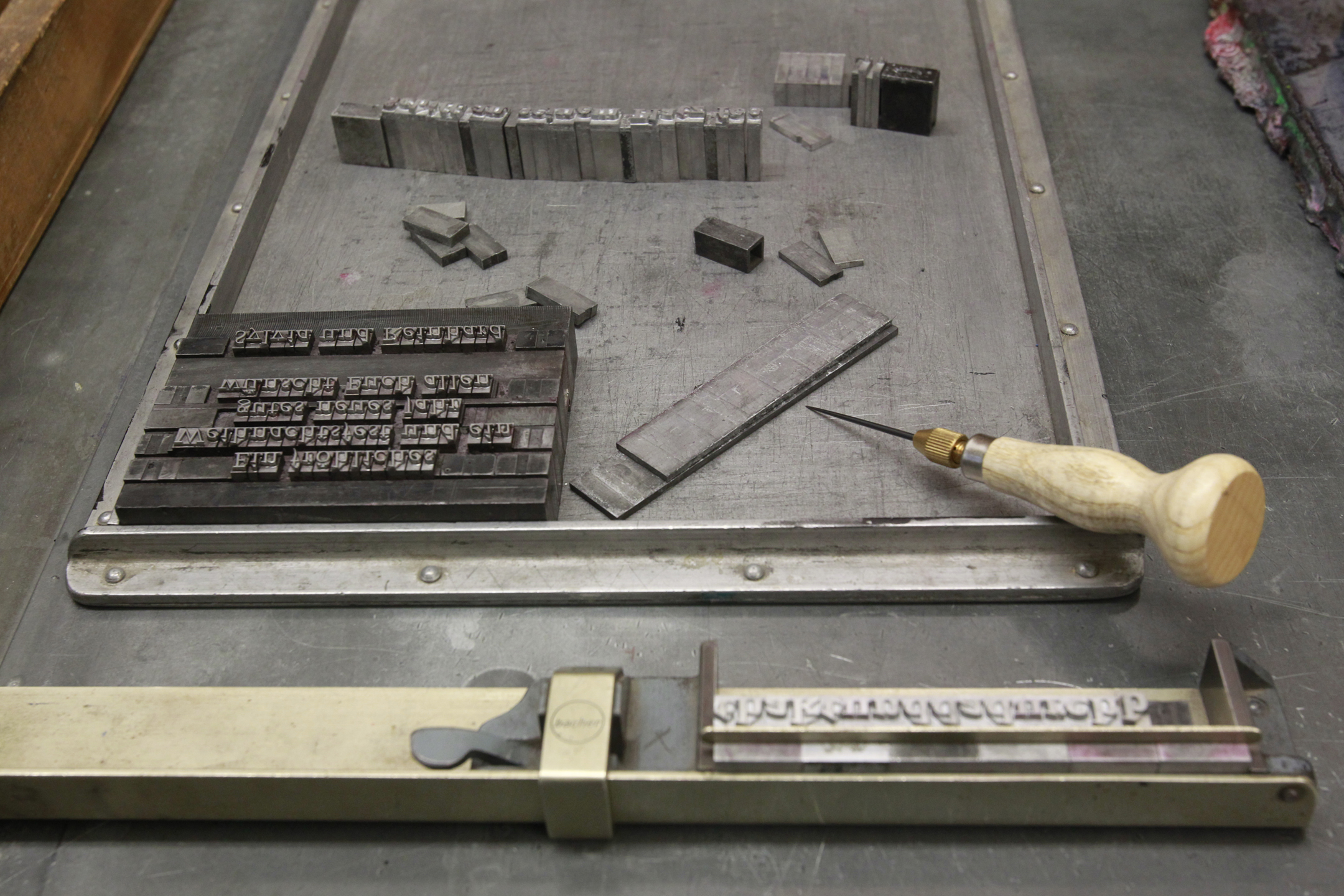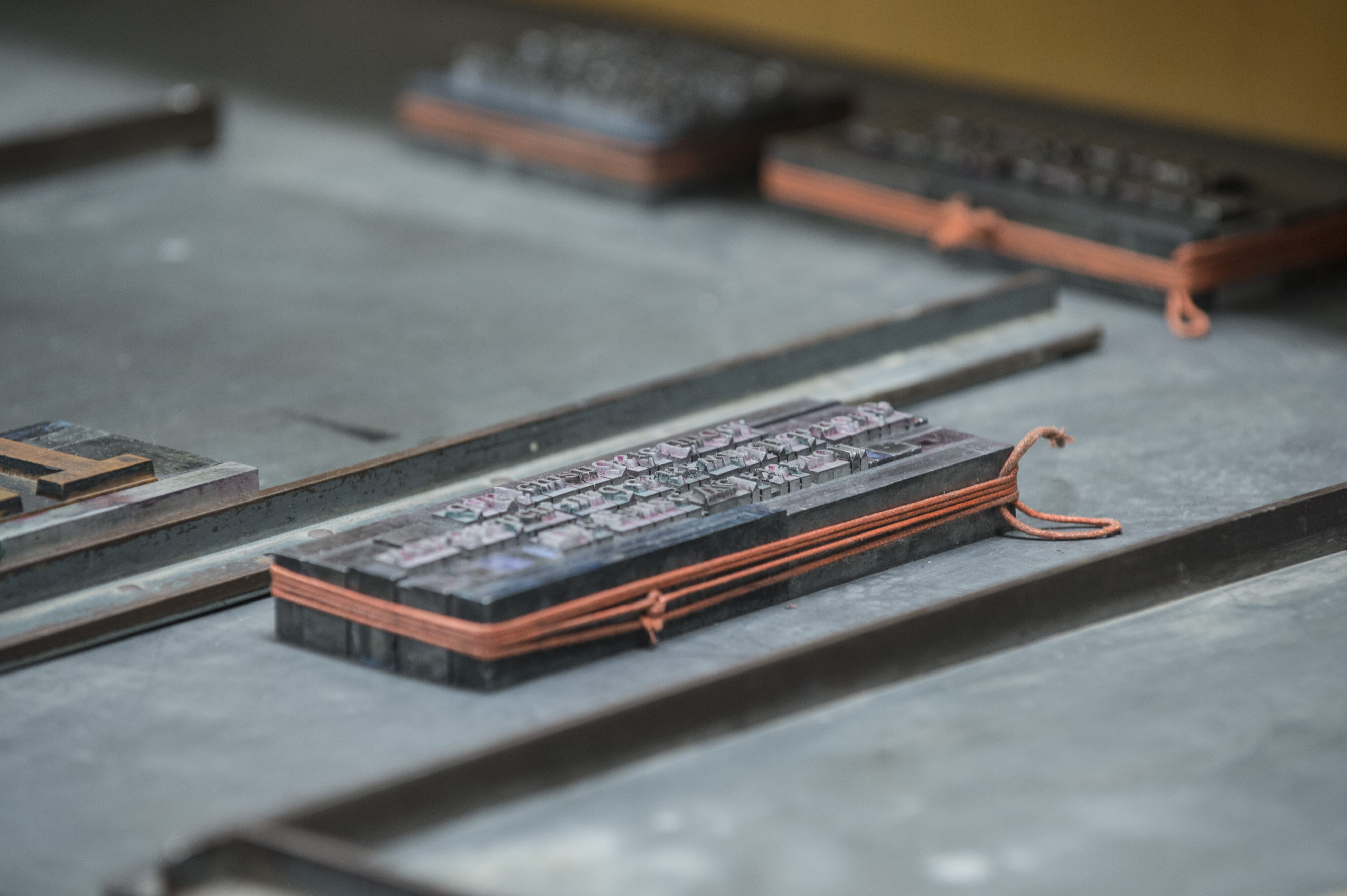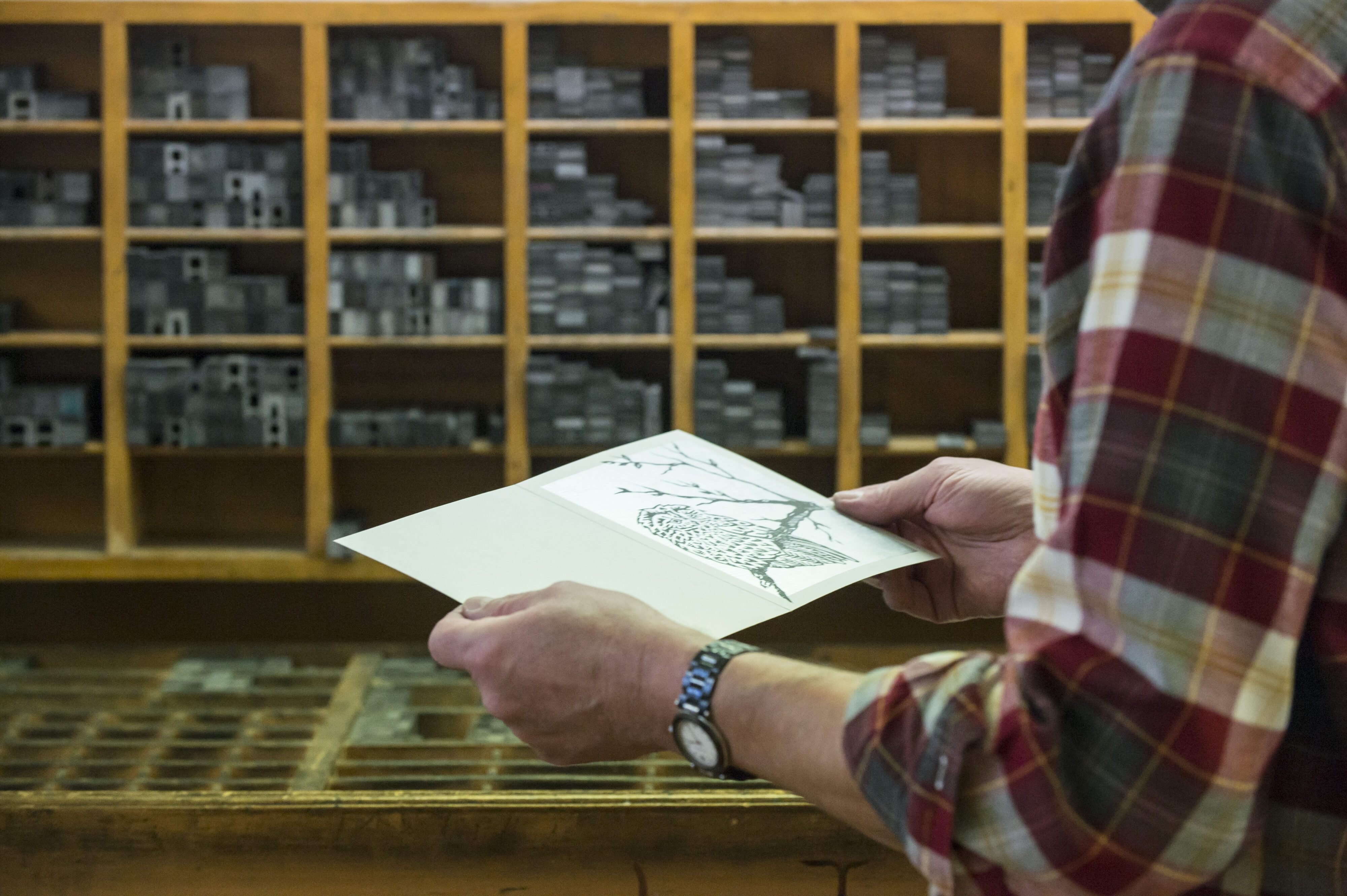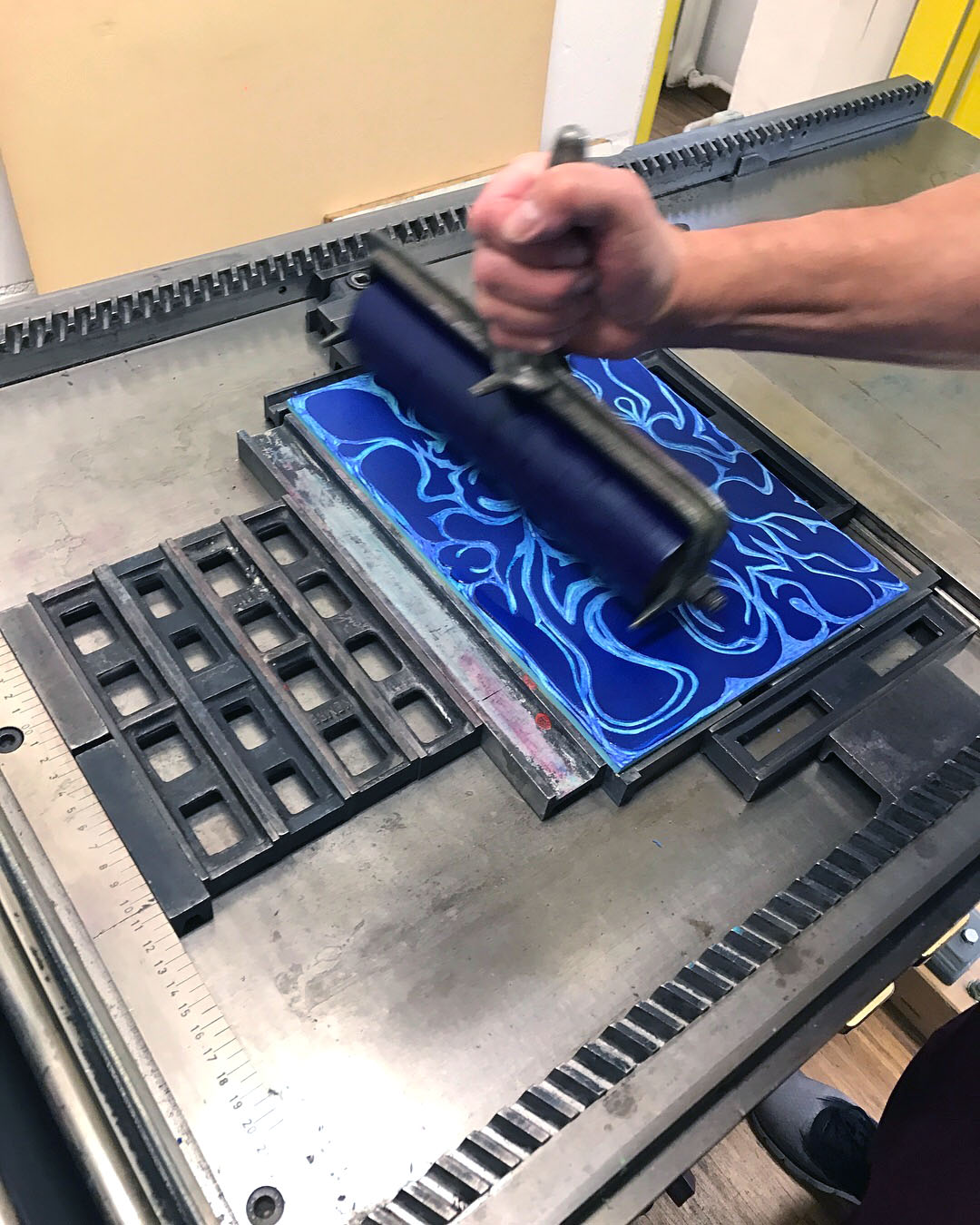 In the
letterpress workshop
wood and linoleum cuts up to 50 x 70 cm can be created, as well as monoprints and heliogravure. In two hot metal typesetting units with font sizes from 6-48 points, texts, justifications, continuous text, and rag texts can be set from poems or short texts. The workshop is equipped with various manual presses as well as a reproduction camera for heliogravure, offering unique possibilities to try classical letterpress techniques. Workshop users should have prior experience with letterpress.
Equipment
2 hot metal typesetting unites
2 FAG manual presses
Knee press
User fee
€10 / day
Workshop Manager
NEWS
We are looking for a new workshop manager. Are you interested? Please contact the general manager Romy Range at rr@kuenstlerhaus.de.
The workshop is currently not bookable due to the lack of a workshop manager.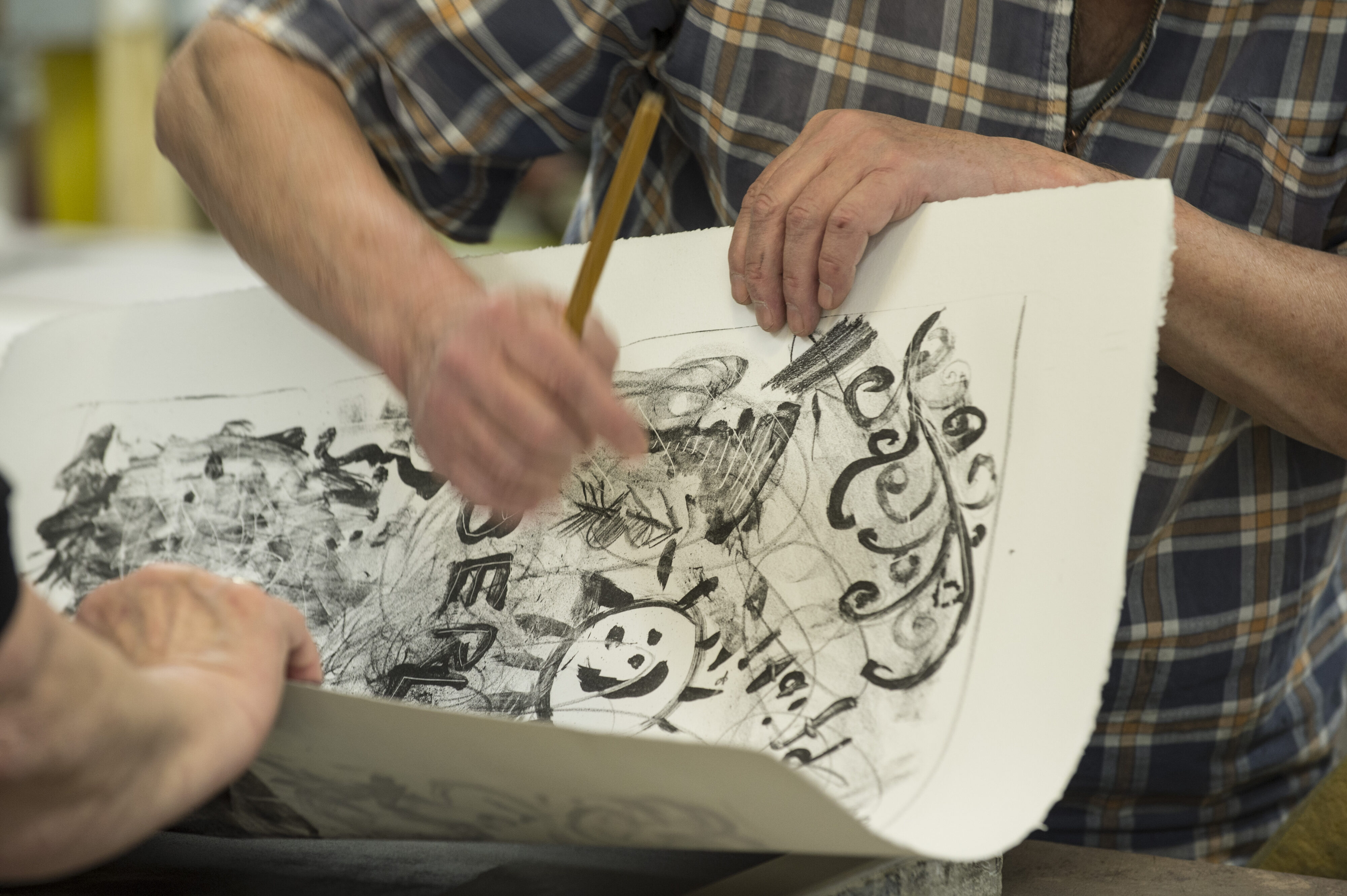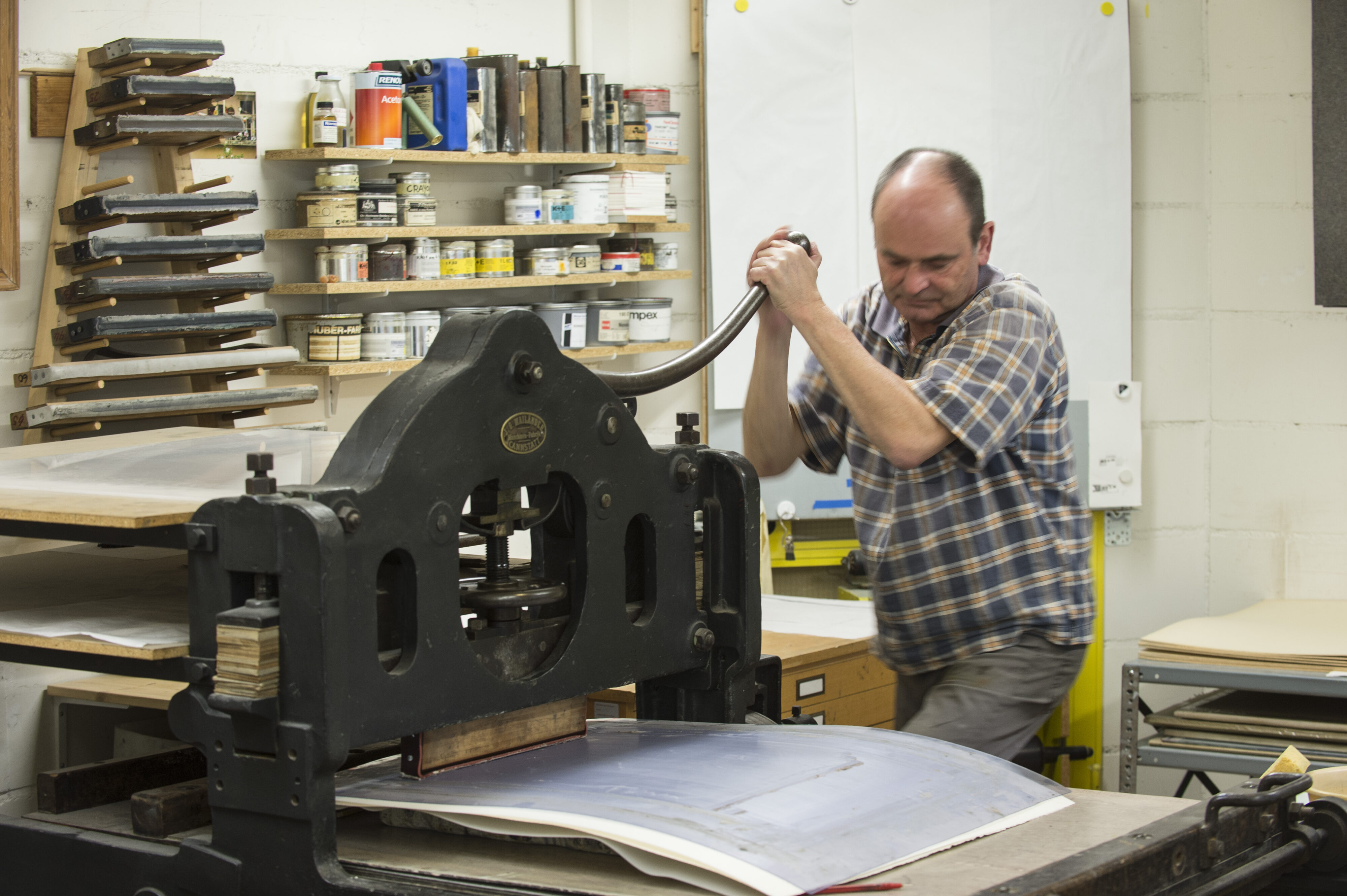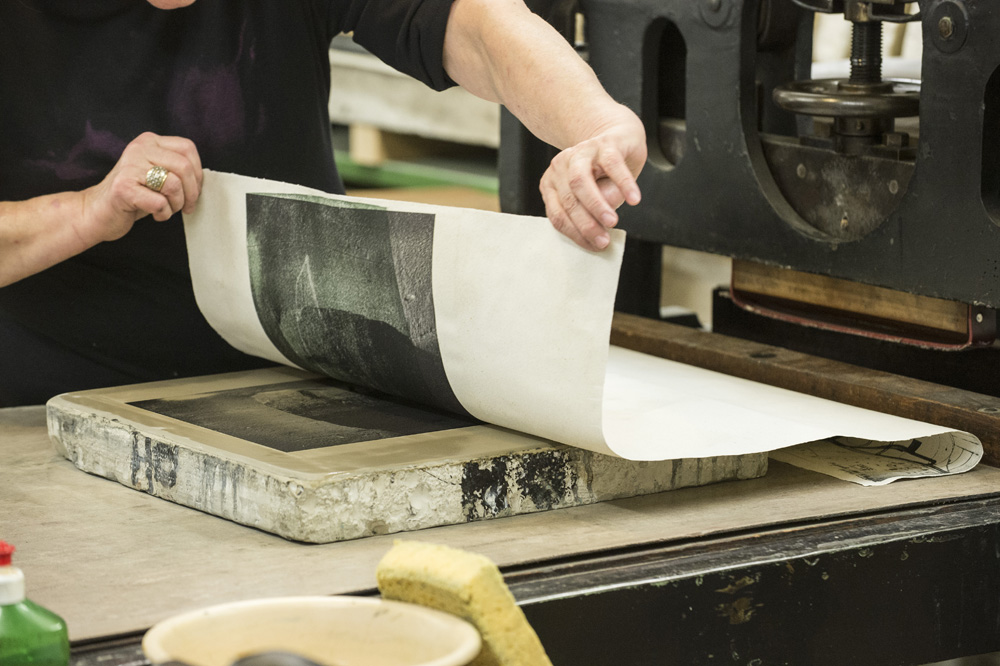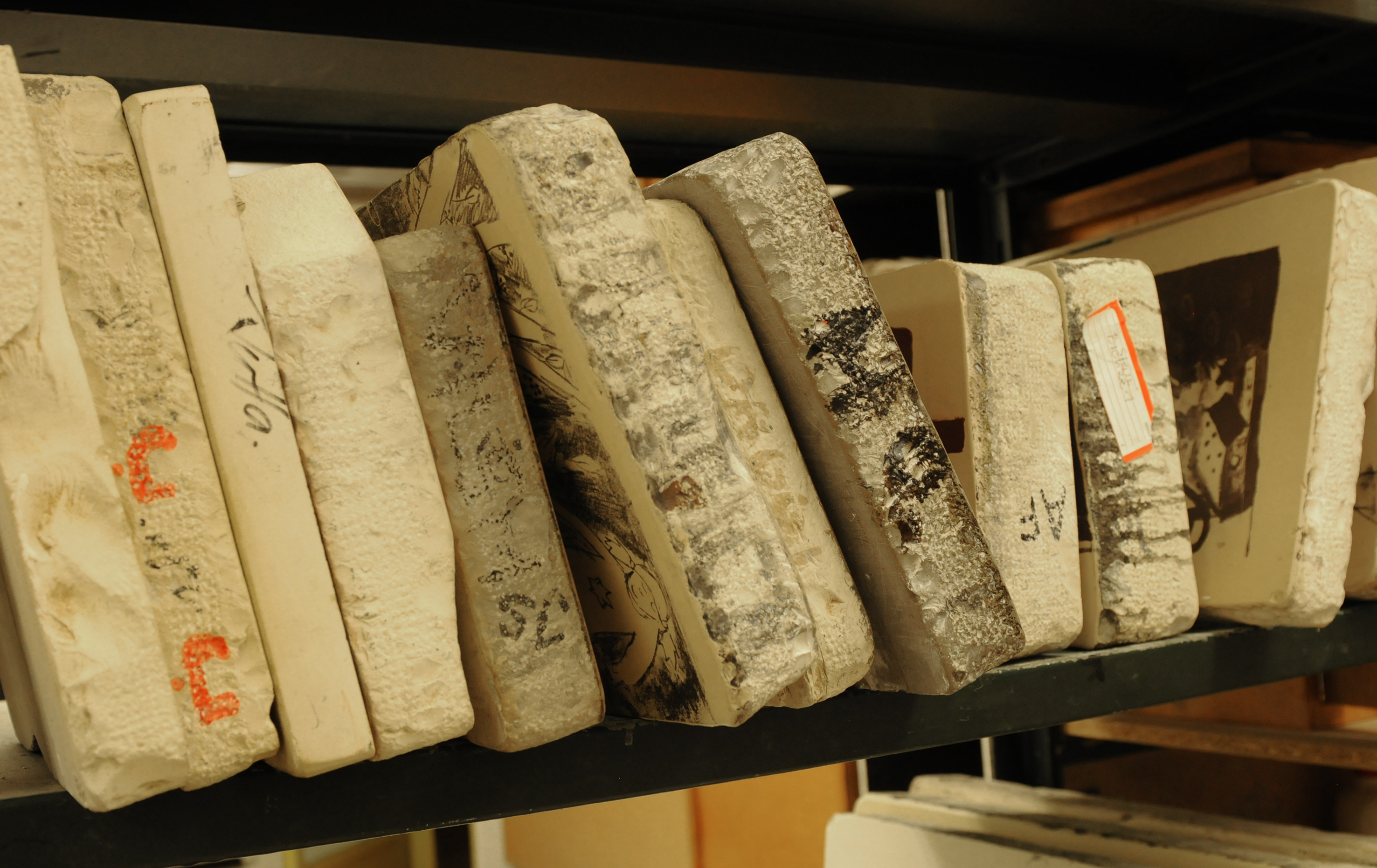 The
lithography workshop
is well equipped to create artistic works on lithography stones (Solenhofener limestone). Works can be made with chalk or ink drawings, as well as direct transfers.
Equipment
Milanese lithography manual press (85 x 110 cm)
Lithography stones
Sanding sinks
Ink rollers
Moving trolley
User fee
€8 / day
Workshop Manager
Prior to use, the lithostones must first be sanded in a separate preparation room. Stones are available in formats from 20 x 30 cm to 50 x 70 cm. Prints are made on a manual press. Ink rollers and newsprint are available.
Workshop users should have prior experience with lithography. Those interested in learning basic lithography can inquire with workshop manager Michael Wackwitz to make an appointment.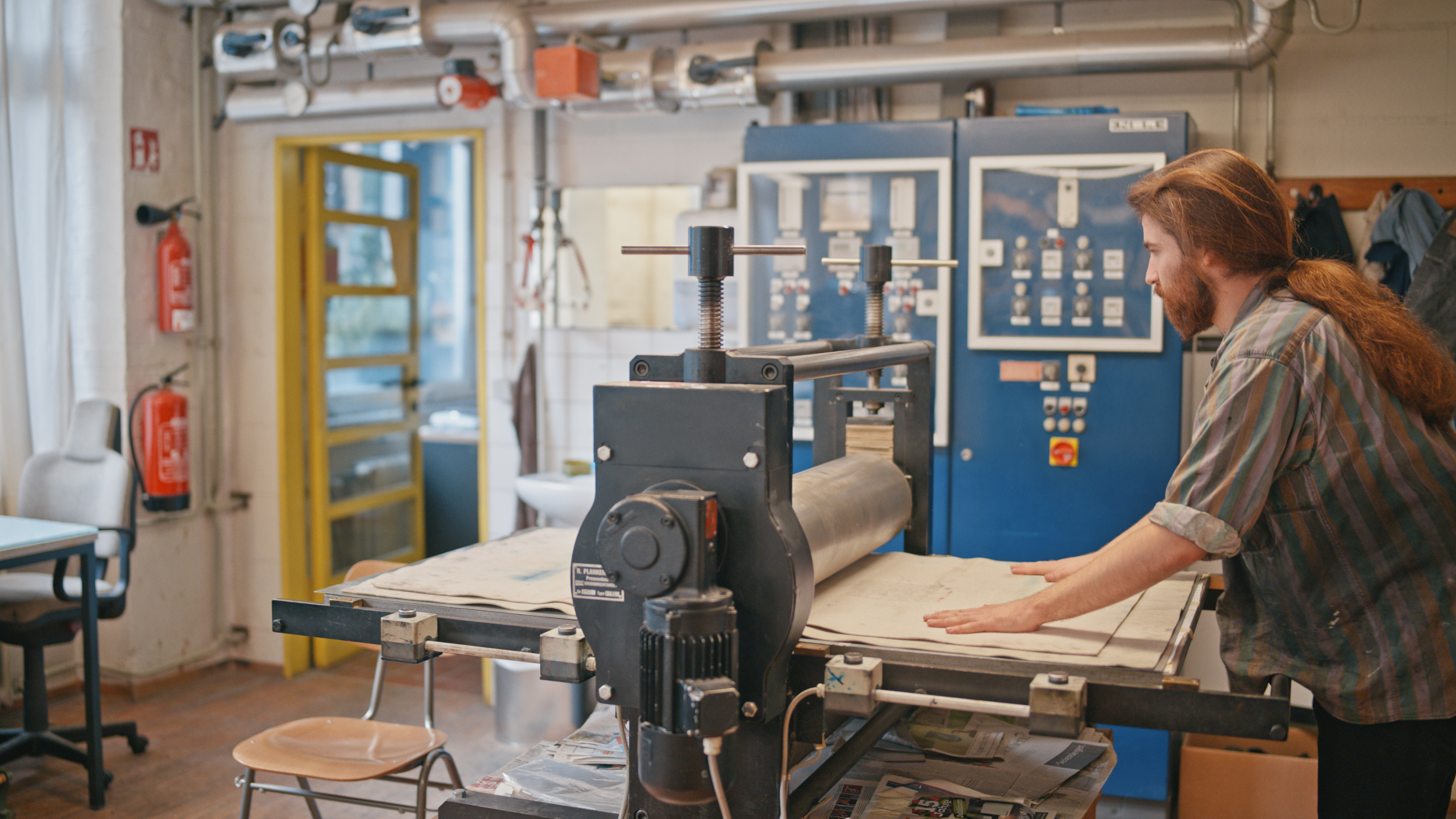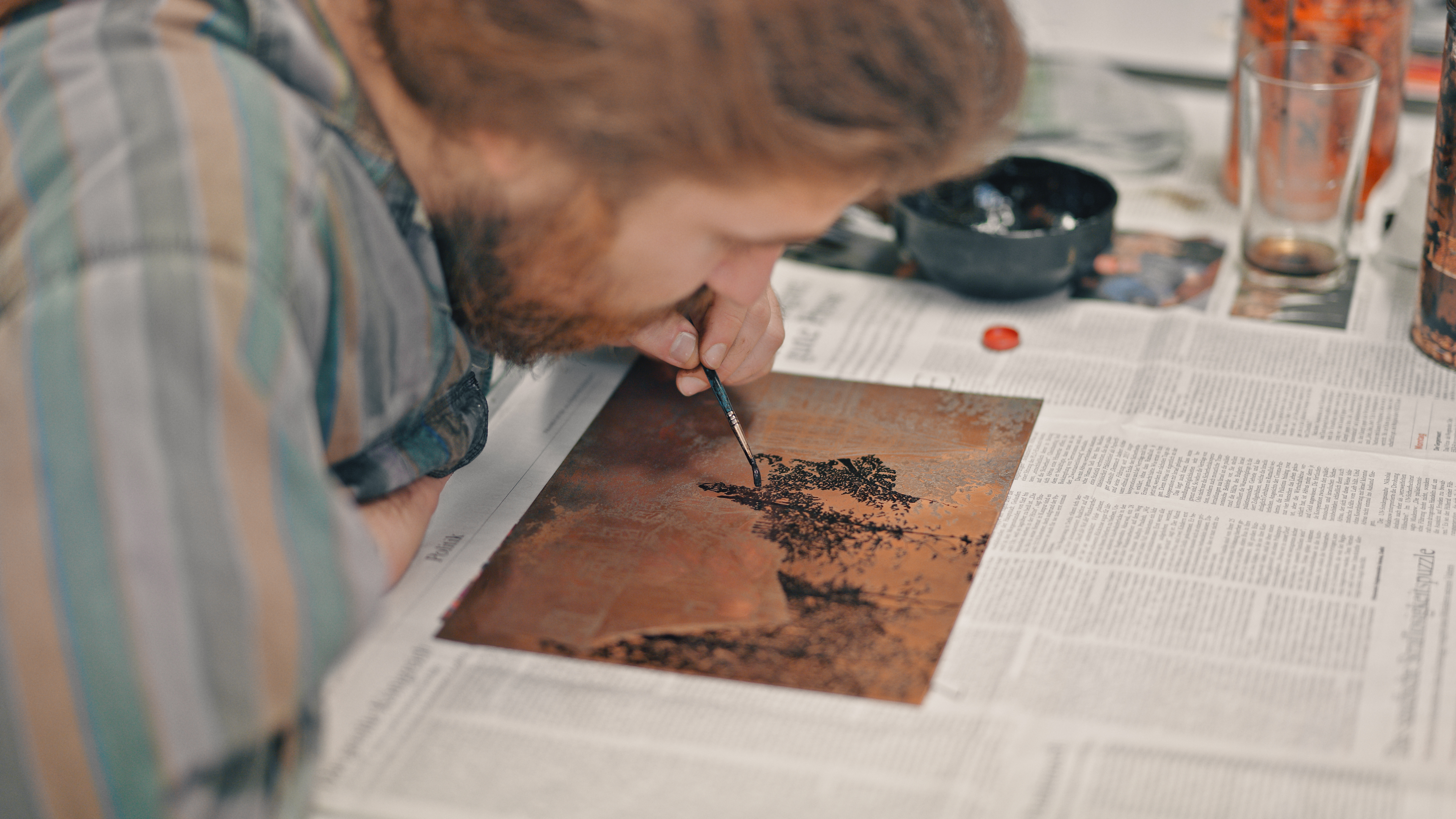 The facilities of the
etching workshop
offer possibilities in common etching techniques such as aquatint, soft-ground, and relief etching. There are two separate printing rooms and an acid room. Users have access to two presses as well as drying racks. In the acid room there are acid baths and a resin box for plates up to 50 x 50 cm. Additionally, there are ink rollers, printing felt, etching needles, and various other equipment and materials.
Workshop users should have a basic knowledge of etching techniques.
Equipment
Electrical press, 80 cm wide
Wheel press, 42 cm wide
Dust box
Acid room
User fee
€8 / day
Workshop Manager
Workshop Assistant Manager
Courses
Introduction
Please contact the workshop manager.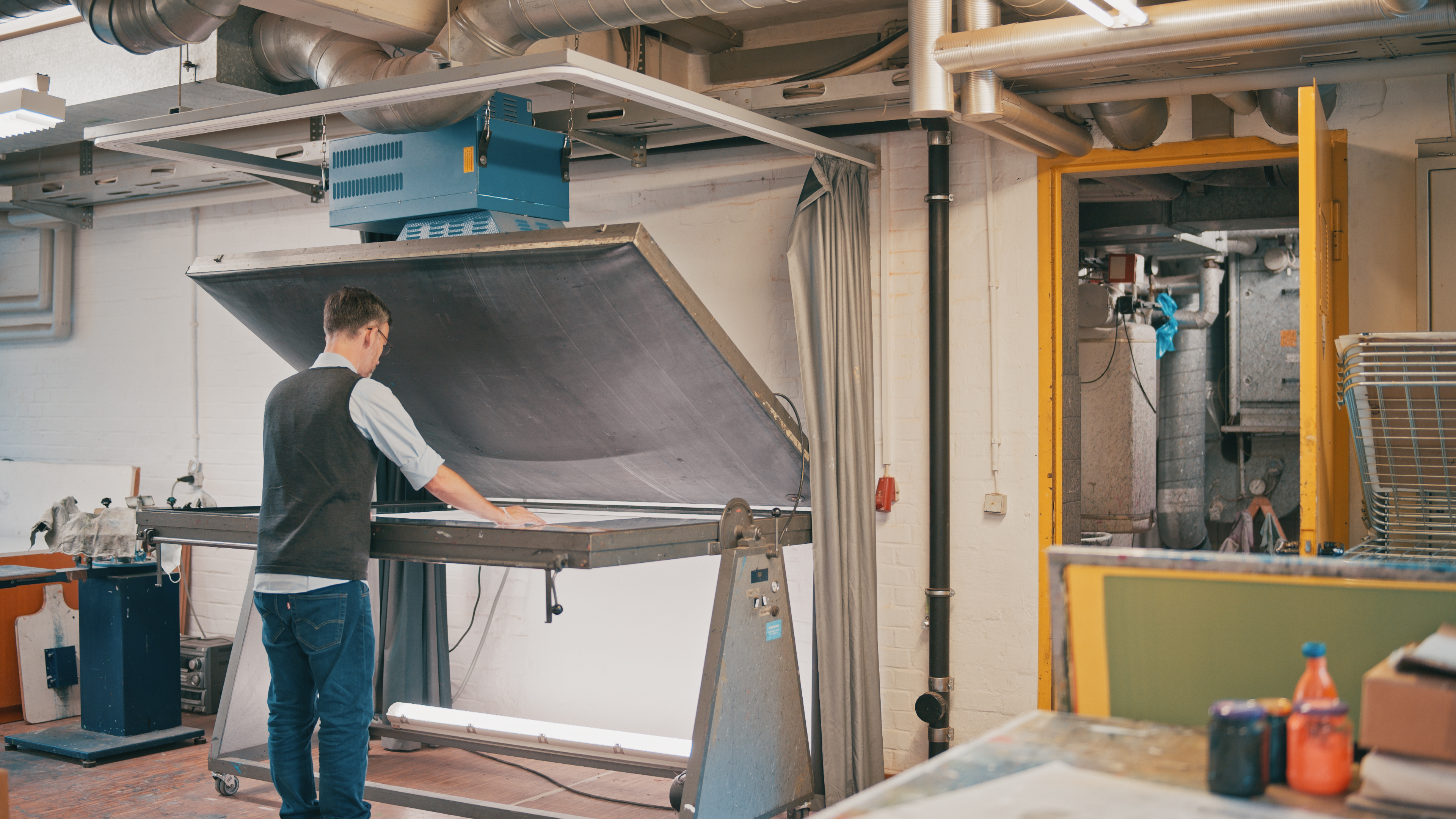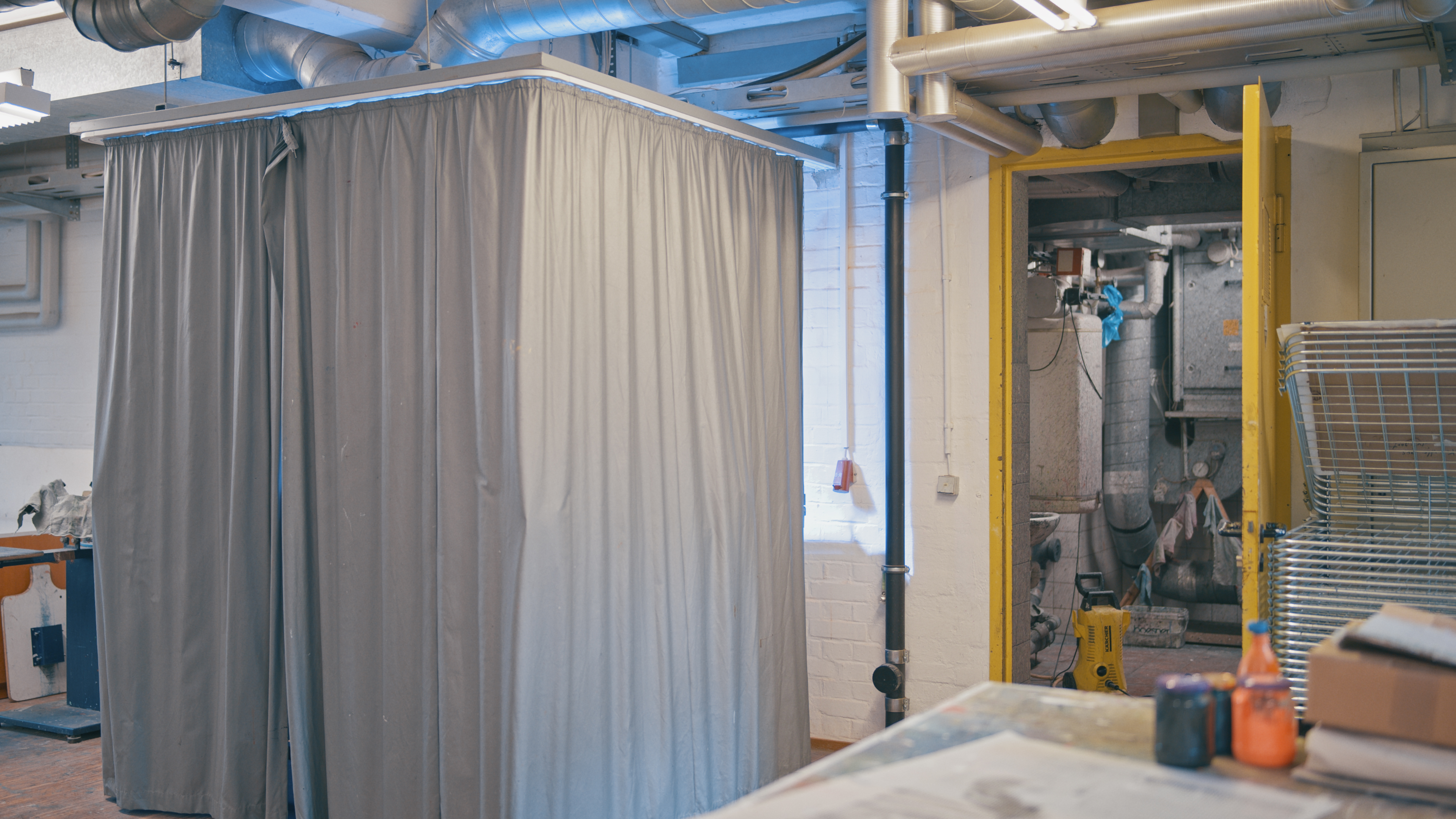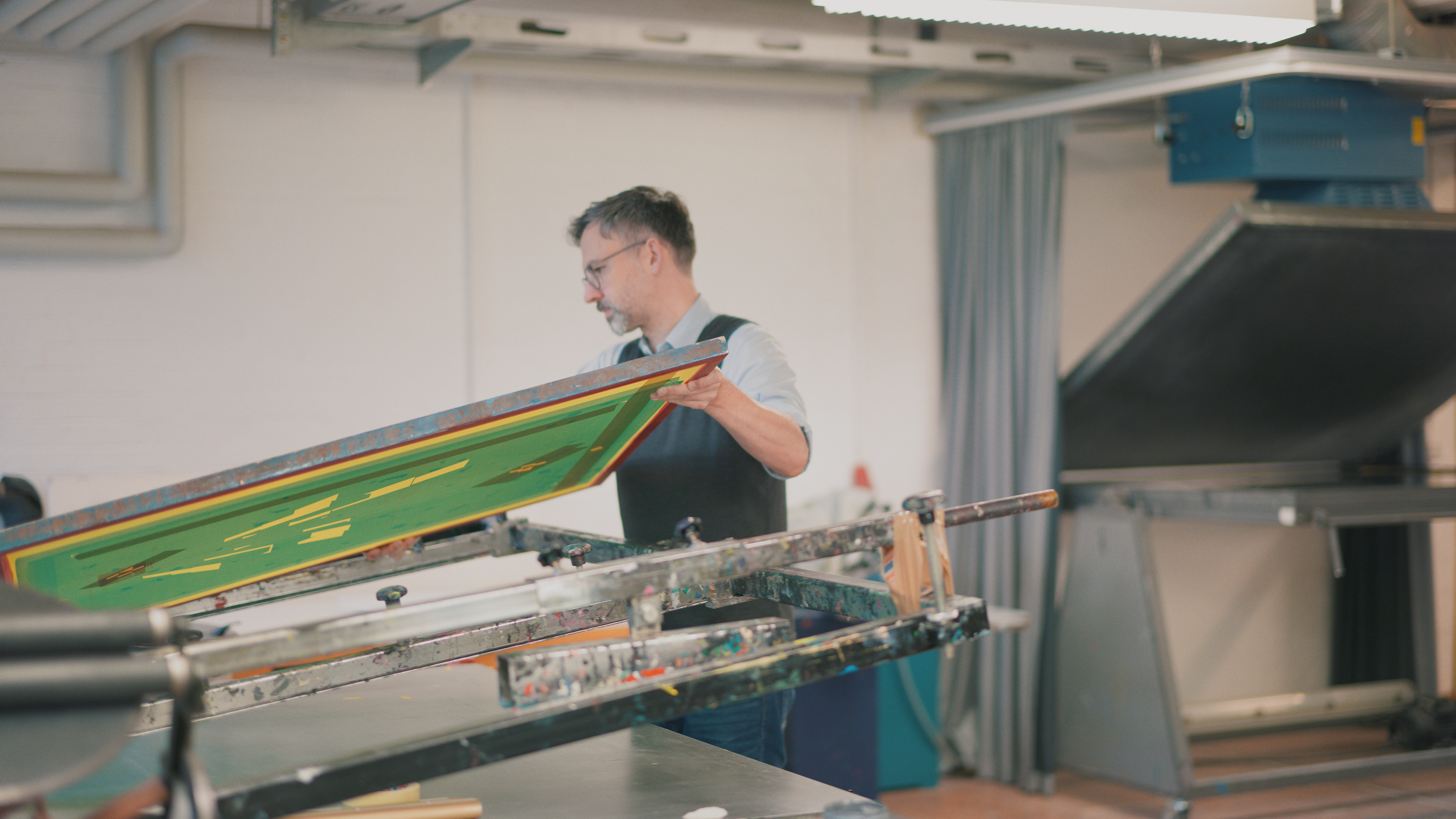 The well-equipped
silkscreen workshop
at Künstlerhaus offers users a professional-grade workshop for the production of silkscreens, T-Shirts, and other cloth prints. A large light table, exposure table, and printing table are available, as well as drying and storage racks and a high-pressure cleaning area. Screens can be borrowed for a small fee.
The workshop is accessible to users with previous experience in silkscreening. Those interested can inquire about an introductory tutorial with the workshop manager.
Equipment
Manual printing table 100 x 140 cm
Four-color printing table for T-Shirts
Exposure equipment
Screen cleaning equipment
Light table
Drying racks
User fee
€12 / day (plus material)
Usage agreement
Workshop Manager
Silkscreen courses for beginners
These courses are aimed at those interested in screen printing without prior knowledge who want to get to know screen printing in theory and practice, as well as at those returning to the field who want to refresh their knowledge. After a general introduction, screen prints are made in small format (DIN A3) and printed on paper or fabric on the hand printing table. The aim of the courses is to get to know the technology and to impart initial experience with screen printing in practice. Only water-soluble paints are used in the courses.
Course including workshop fee and material 165 euros (2 to 5 participants, 2 appointments, total duration approx. 9 hours)
Inquiries and registration with Jochen Detscher at siebdruck@kuenstlerhaus.de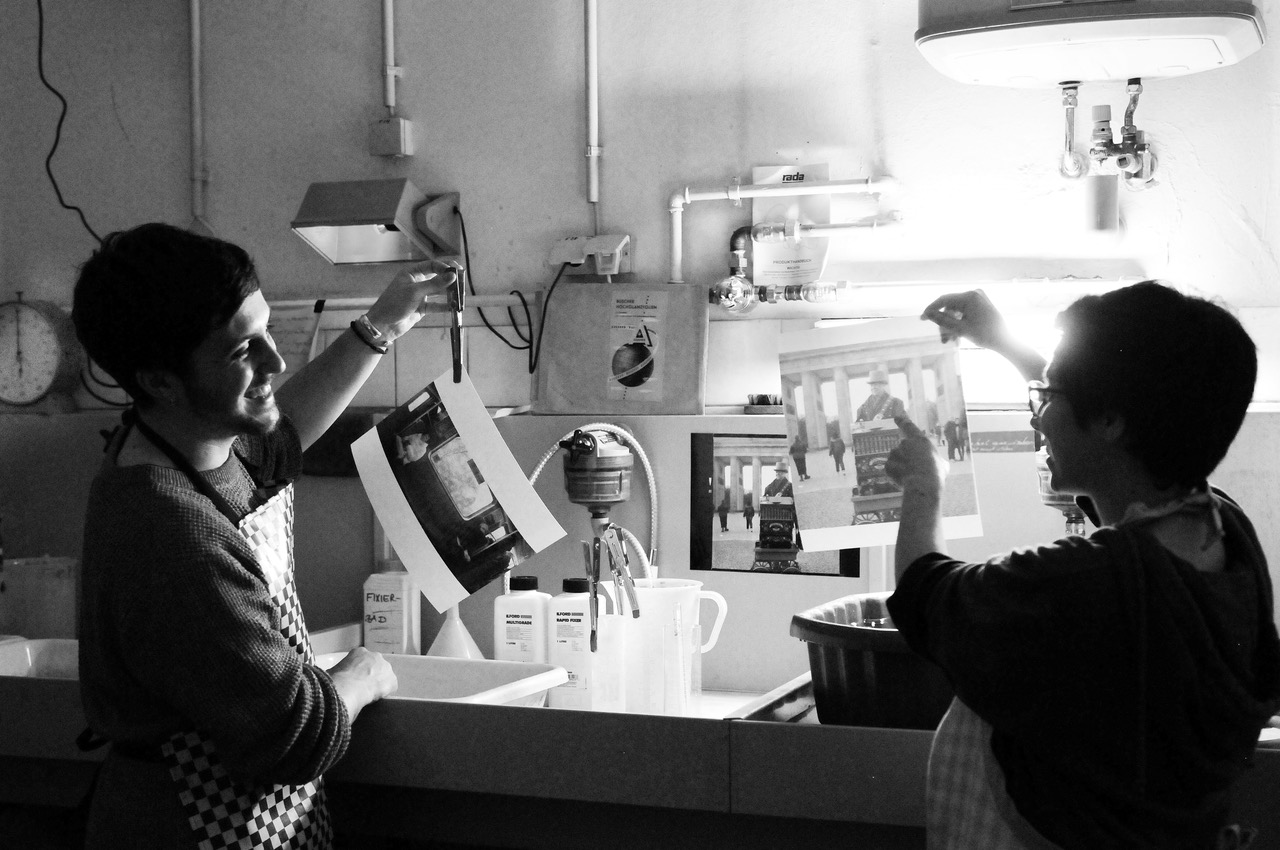 The
photo laboratory
at the Künstlerhaus provides the ideal conditions for professional analog black-and-white photography. Two fully equipped darkrooms are available. With enlargers for 35 mm, medium formats, and sheet film, as well as a long film development facility, among other equipment, we cater to all aspects of black-and-white photography here.
We also offer courses in analog black-and-white darkroom work.
Equipment
Teufel Fujimoto b/w enlarger with multigrade filters and with film carrier and lenses for 35 mm, medium formats, and sheet film up to 4×5 inches

Durst b/w large enlarger for sheet film, with Ilford digital multigrade function head

Leitz b/w 35mm enlarger Focomat V35

Long film development 120 cm

Technical accessories, laboratory equipment, film canisters for negative processing
Two-sided Baryte drying press with gloss mirrors up to 50 x 60 cm
Baryte drum dryer Meteor Metodry 447, width 70 cm

PE dryer Durst RC5600, width 40 cm
User fee
8 € / day
Workshop Manager
Stellvertretende Werkstattleiterin
Faye Parish
Darkroom course for analog black-and-white photography
The course is aimed at participants who want to get to know or deepen their knowledge of the process from the negative to the finished positive/paper photograph in so-called analog (i.e. original) photography.
Introduction to darkroom work
Produce black-and-white pictures by hand
Create photograms
Create black-and-white contact sheets
Create black-and-white copies
Create enlargements (13 x 18, 18 x 24, and 24 x 30 cm) of 35 mm, medium format, or sheet film negatives
When: Once or twice a month, Saturdays, 1–7 pm, darkroom/photo lab
Where: Photo lab at the Künstlerhaus
Costs: €95.00 per participant, including photo paper (PE), chemicals, and workshop fee
Maximum number of participants: 3 (due to COVID-19 the number of participants is currently limited to 2)
Please bring work clothes and (if available) black-and-white negatives, 35mm, medium format, or sheet film up to 4×5 inches
Please register at fotografie@kuenstlerhaus.de
___
Photography course black and white analog
photographieren – literal translation = light painting / light writing
The course is intended for participants who want to get acquainted with analogue (i.e. original) photography or who want to deepen their knowledge.
Basic rules of photography
portrait exercises with setting the main light (artificial light)
light and shadow, if necessary street photography
image design / composition
Discussion of content-related questions
When: by arrangement
Where: photo lab in the Künstlerhaus
Costs: 95,00 € incl. workshop fee
Maximum number of participants: 3 (due to COVID-19 the number of participants is currently limited to 2)
Please register at fotografie@kuenstlerhaus.de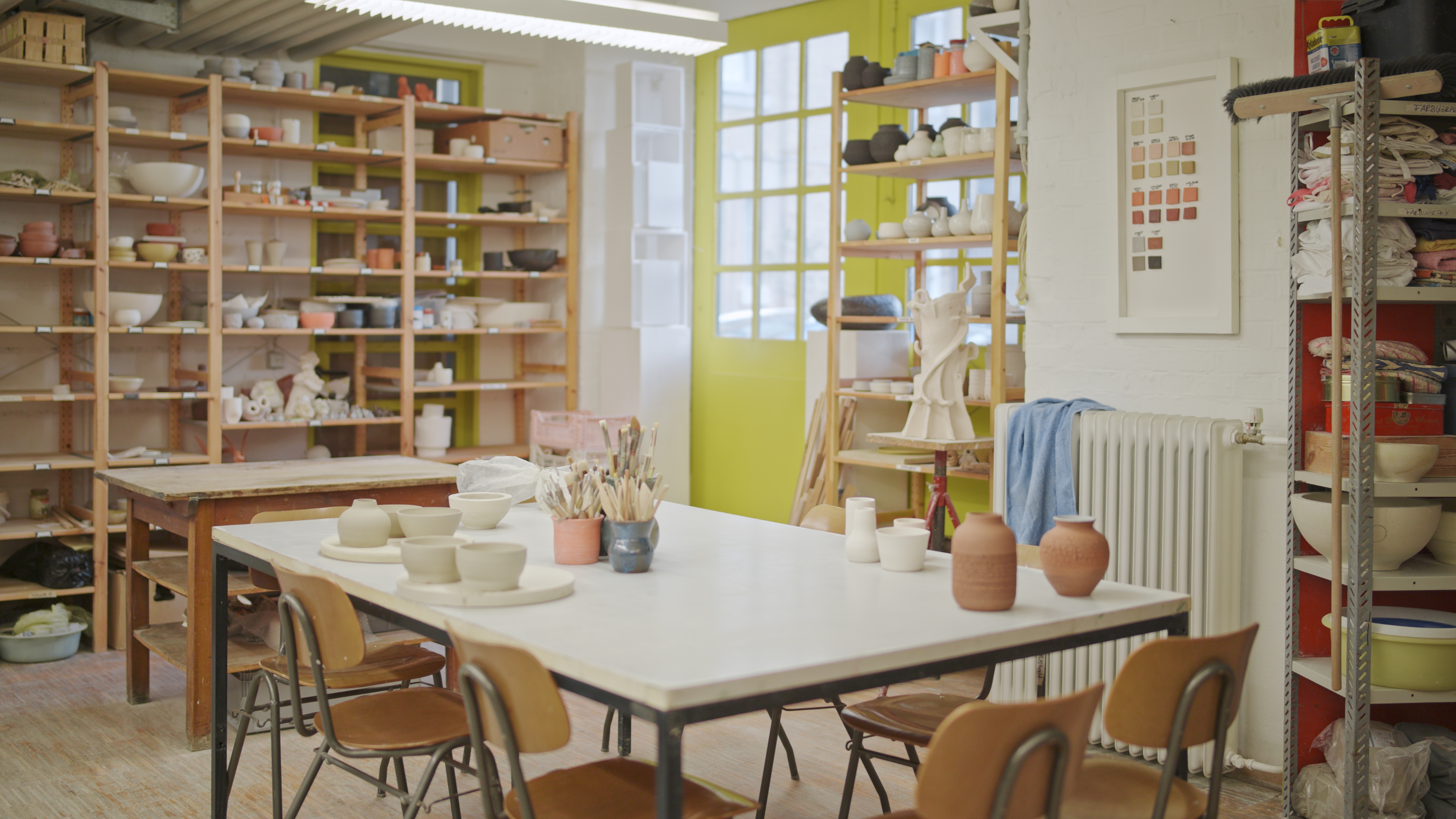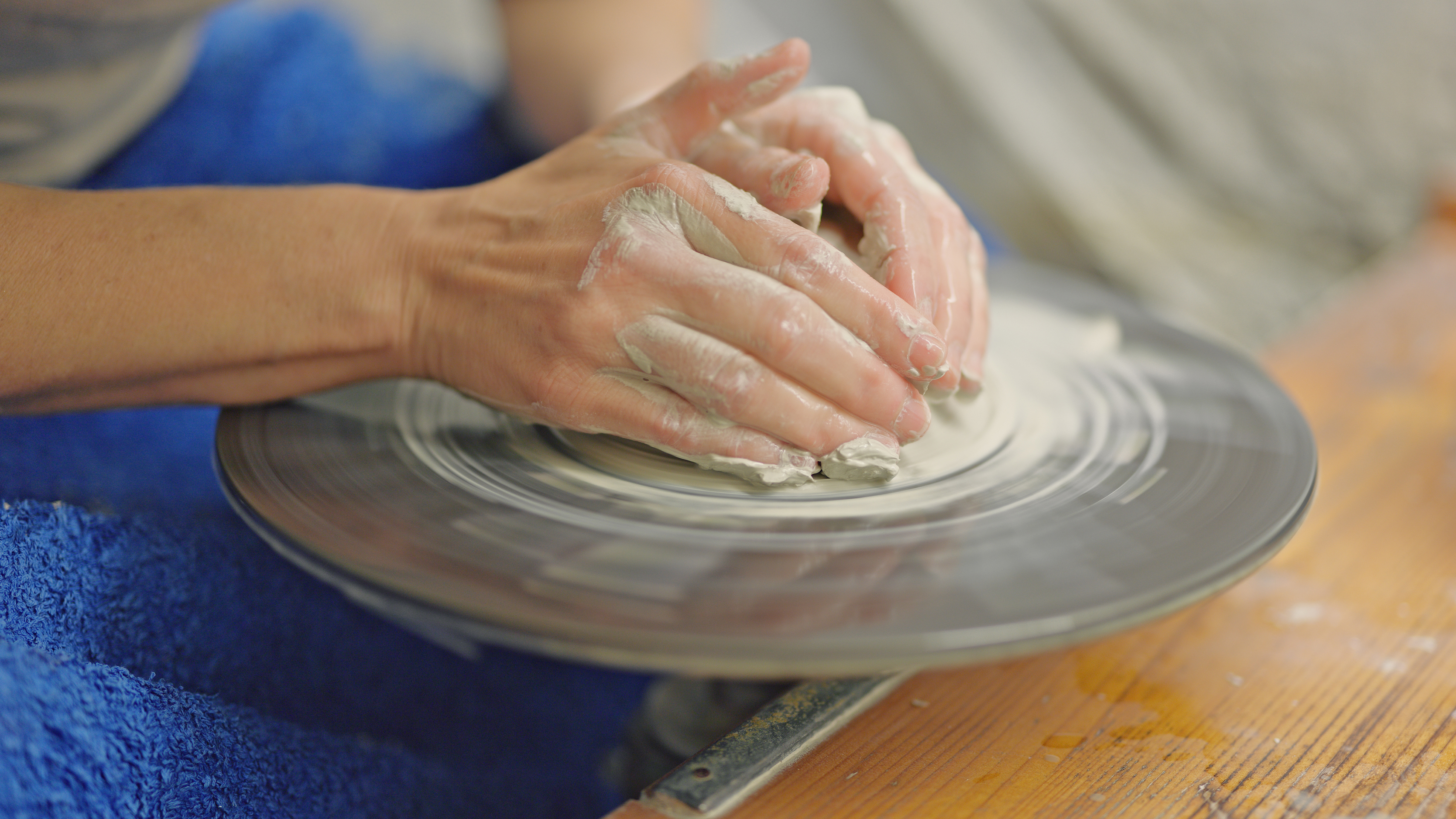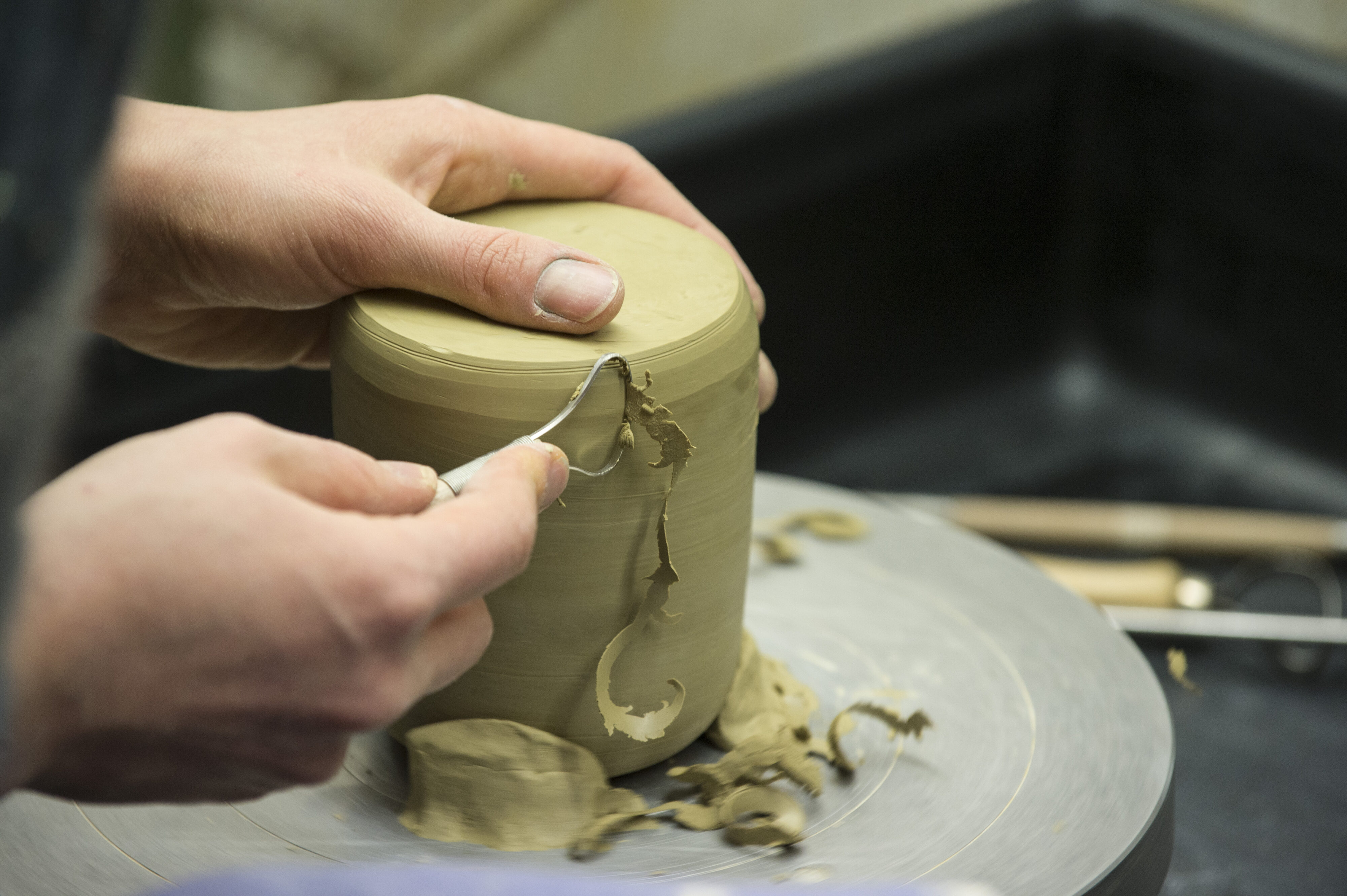 The
Ceramics Workshop
provides a space to practice almost all ceramic techniques, such as handbuilding, printing, and wheel-throwing techniques. Our emphasis is on experimenting with different techniques, types of clay, and glazes, as well as working independently. Those with prior knowledge of ceramic materials and techniques will receive an introduction to our workshop procedures. Those interested without any prior knowledge can learn different techniques in our introductory courses.
Equipment
Two kilns with temperatures of up to max. 1300° C

Different types of clay and glazes
For the use of the workshop a membership in Künstlerhaus Stuttgart is mandatory!
Attention: Due to the high demand, our capacities are exhausted. At the moment there are no free places in the ceramics workshop.
For your understanding: Since it is not possible to produce, dry, fire, glaze, and fire again ceramics in one day, storage facilities are needed to keep the objects safe during the whole production process (several days and weeks). And these capacities are limited in our small workshop. So that means, even if a booking slot is free, it unfortunately does not mean that we have free spaces.
Use of the workshop is by arrangement on a daily basis. Existing material such as clay, glazes, or other raw materials can be used for a fee.
User fee
8 € / day
Workshop Manager
Open Workshop
Our Open Workshop takes place every Tuesday from 6:30 pm to 9:30 pm. The workshop event is for you to work independently, but the workshop manager is on site and available to answer any of your questions. This event is suitable for anyone with prior experience and for all who already have a place in the workshop. Please register in advance here in advance!
Tailored introductory courses
Individual courses at the hub can be offered by the workshop management. For inquiries and to register please contact Yvette Hoffmann at keramik@kuenstlerhaus.de.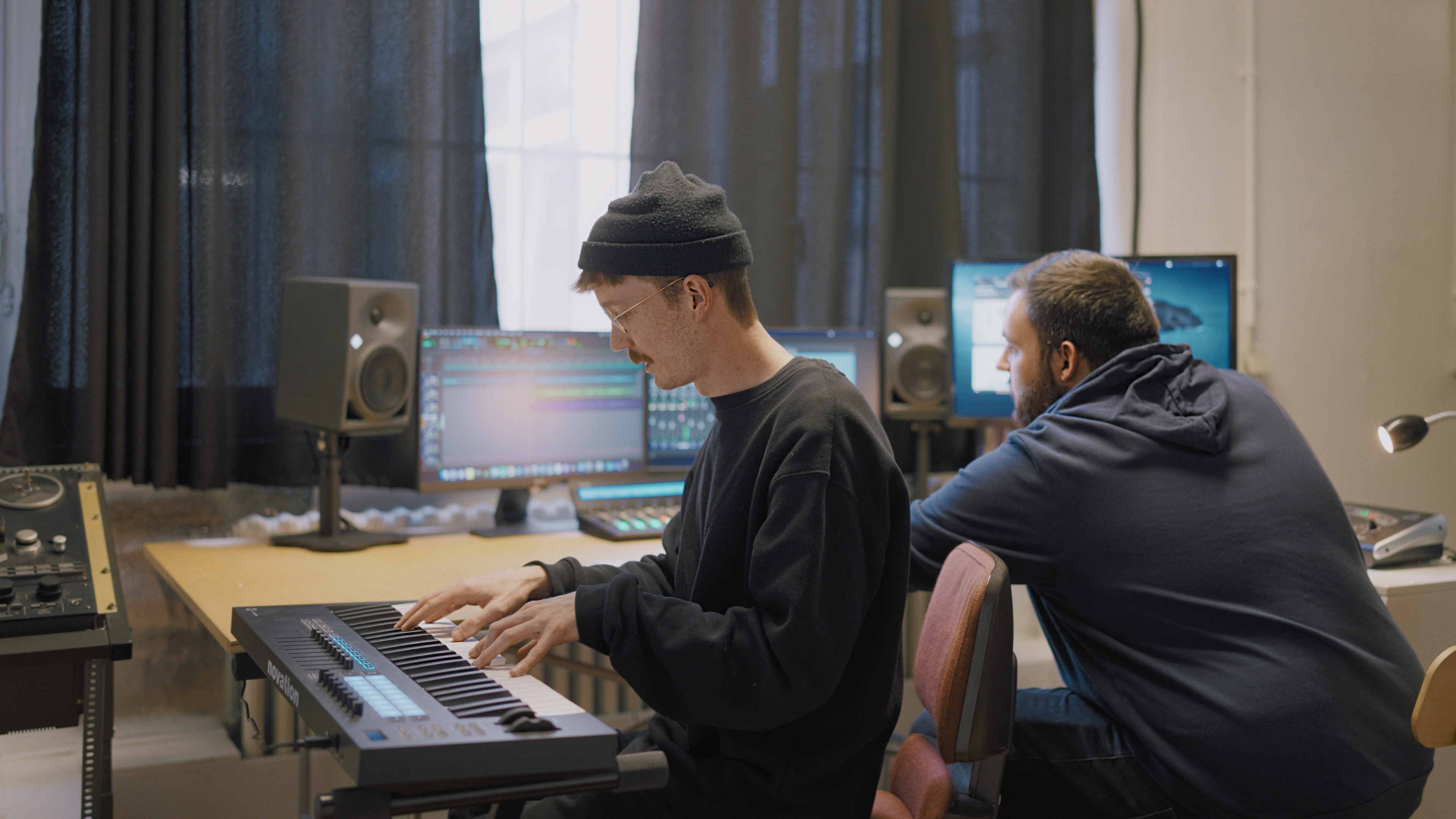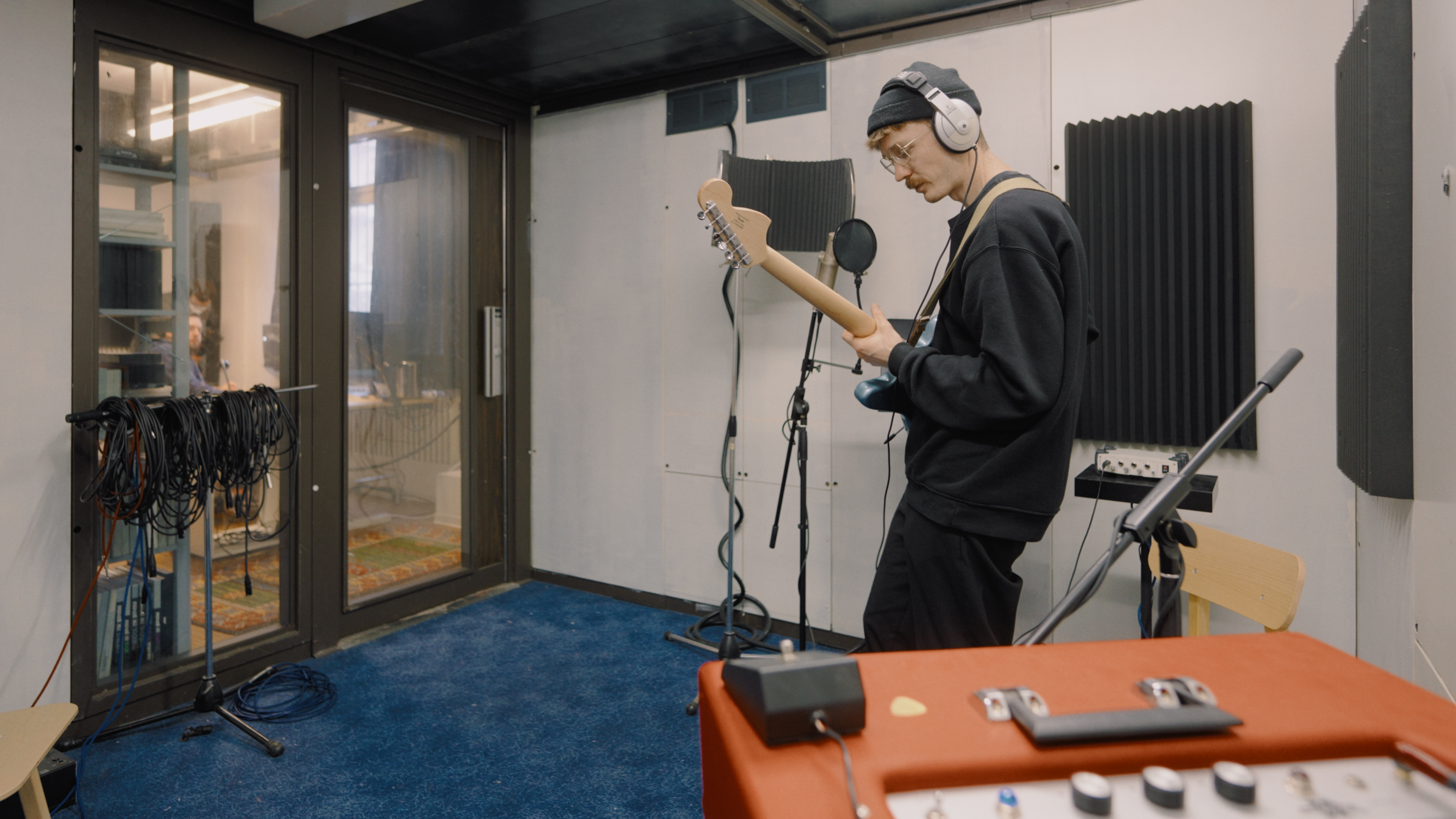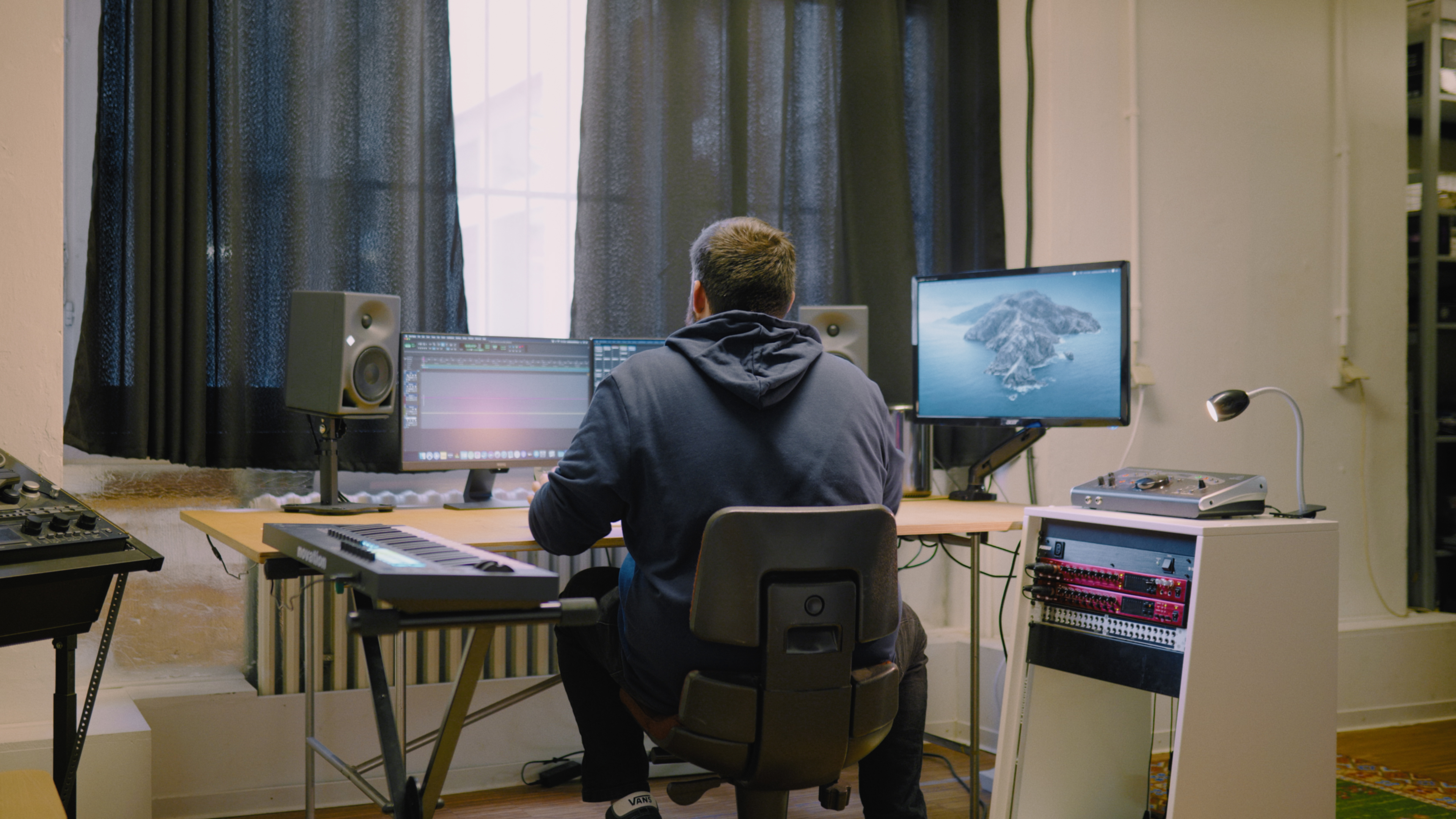 The
audio workshop
of the Künstlerhaus Stuttgart is ideal for recordings of speech, instruments, foley and sounds. With a selection of different microphones, high-quality productions can also be realized. Among other things, it is also possible to mix and master digital multitrack projects (OMF, AAF). Either a stereo near-field monitoring system or a multi-channel monitoring system in the control room serves as monitoring. Also in the audio workshop is a 12sqm studio recording box, which is actively supplied with air and power. With this, recordings can be made without disturbing external noise or loud sound sources can be played back in a sound-isolated manner.
Equipment
21" Intel iMac, recording software ProTools and Garageband
27" LED Monitor
24 canal analog mixing desk
8/8 Interface Motu 828 MKII
16/4 Multicore Stagebox
4 canal earphones amp / distributor NeoAmp
Div. analog effects (Exciter, Reverb, …)
Div. play devices (DAT, LP, ribbon machines)
Drum kid microphoning (7 microphones)
Membrane microphones with spider, acoustic noise absorber and Plop protection
Shure 57, 58
Div. dynamic microphones
3,6 x 3,4 x 2,2 m studio-recording-box with glass front and door
User fee
€10 / day
Workshop Manager
Courses
For courses in recording engineering and digital postproduction please contact the workshop manager Niklas Menschik.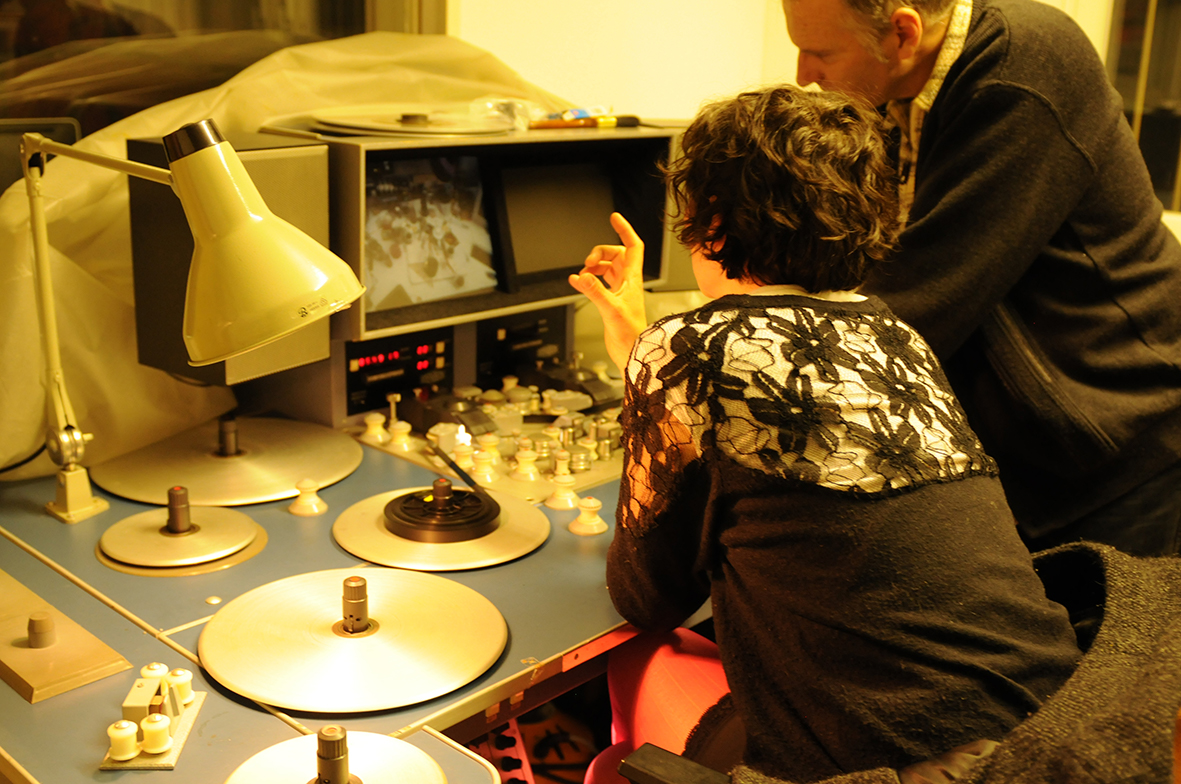 In the well-equipped
film workshop
Künstlerhaus offers everything necessary for small and medium-sized film productions. Our goal is to support the making of No- and Low-budget productions, included by offering equipment rental at low prices, easy access to technical equipment, and large workplaces for independent groups and individuals.
Equipment
Arriflex Super16 SR camera
Zeiss Zoom lenses
Zeiss lenses 9,5/12/16/25mm
Crosziel Follow focus
Nagra sound recorder
Steenbeck editing table
Hmi spot lights
Artificial spot lights
Kinoflo neon lamp set
Dedolight lamp set
Tripods and other equipment
User fee (editing table)
€10 / day (Renting fees on request)
Workshop Manager
The
media workshop
has a Media 100 editing system, used for post-production in film and televion productions. Our facilities include a Mac G4 with Media 100 hardware and software Version 8.5. For those with prior knowledge of other video editing programmes, Media 100 is easy to learn. All users of the video workshop should have basic knowledge of MAC OS X and some video editing experience.
We regularly offer weekend workshops where the fundamentals of video editing are introduced. Per request, we also offer workshops on specialized programmes like Boris Graffiti, an excellent titling programme included in Media 100.
Equipment
2x iMac 20″ MacOS, 16G RAM, Apple Silicon M1

DSLR Nikon D800 with various lenses, Atmos Ninja recording device for HD video

Video accessories: microphones, Tescam, tripods…

Playback devices: Betacam, Mini DV, VHS, S-VHS, HI 8, U-matic, DVD player, Sony DCR-VX 2100E SD camera

A3 Scanner Epson DS-50000N

A2 printer Epson SC-P900 for high quality prints
Courses
 Video editing: Premiere CC

Video Effects: After Effects CC

Introduction Image Editing: Photoshop CC

Introduction Implementing a website yourself (WordPress)

Introduction Indesign
For courses please contact the workshop manager. Course fee upon request.
User fee
€10 / day
Workshop Manager
An HD camera is available and can be borrowed on request (daily rate 15 €).
Users of the media workshop need some prior knowledge of Mac (MacOS) and Adobe Creative Suite. Those who are already familiar with other forms of digital editing will quickly find their way around. Computer skills and a basic knowledge of media are a prerequisite for using the workshop.
We offer workshops on a regular basis and on request to teach the basics of working in the media workshop.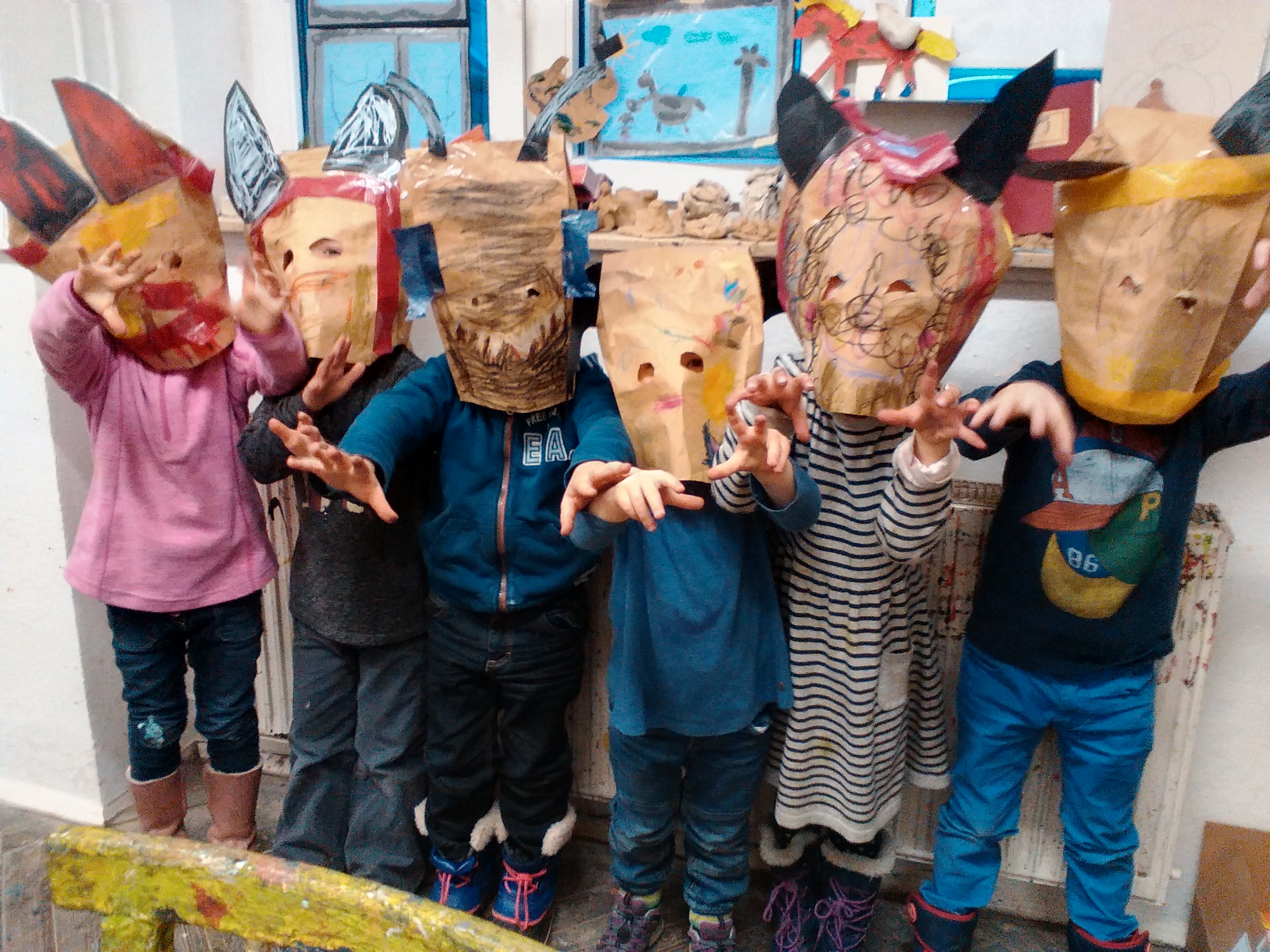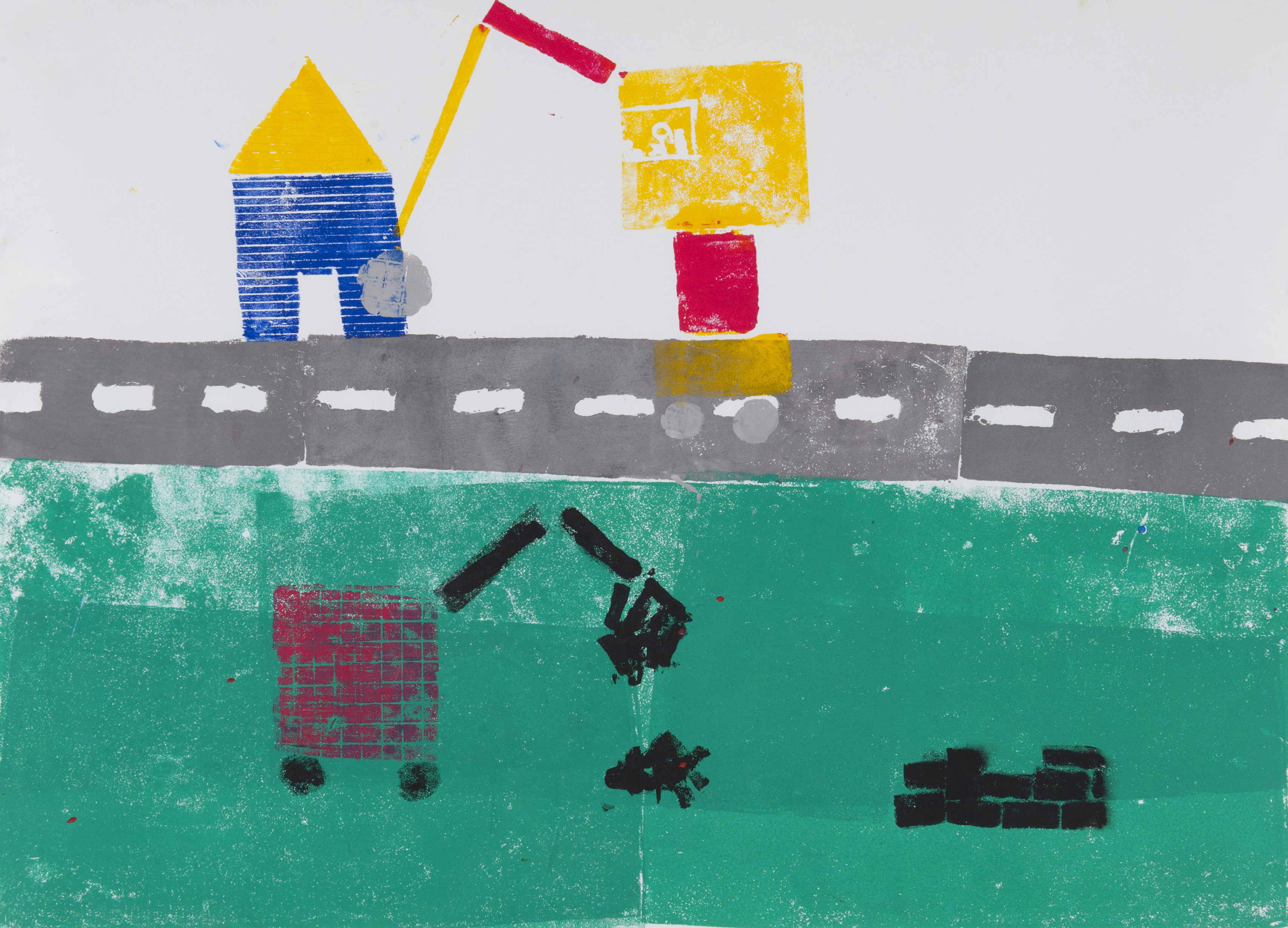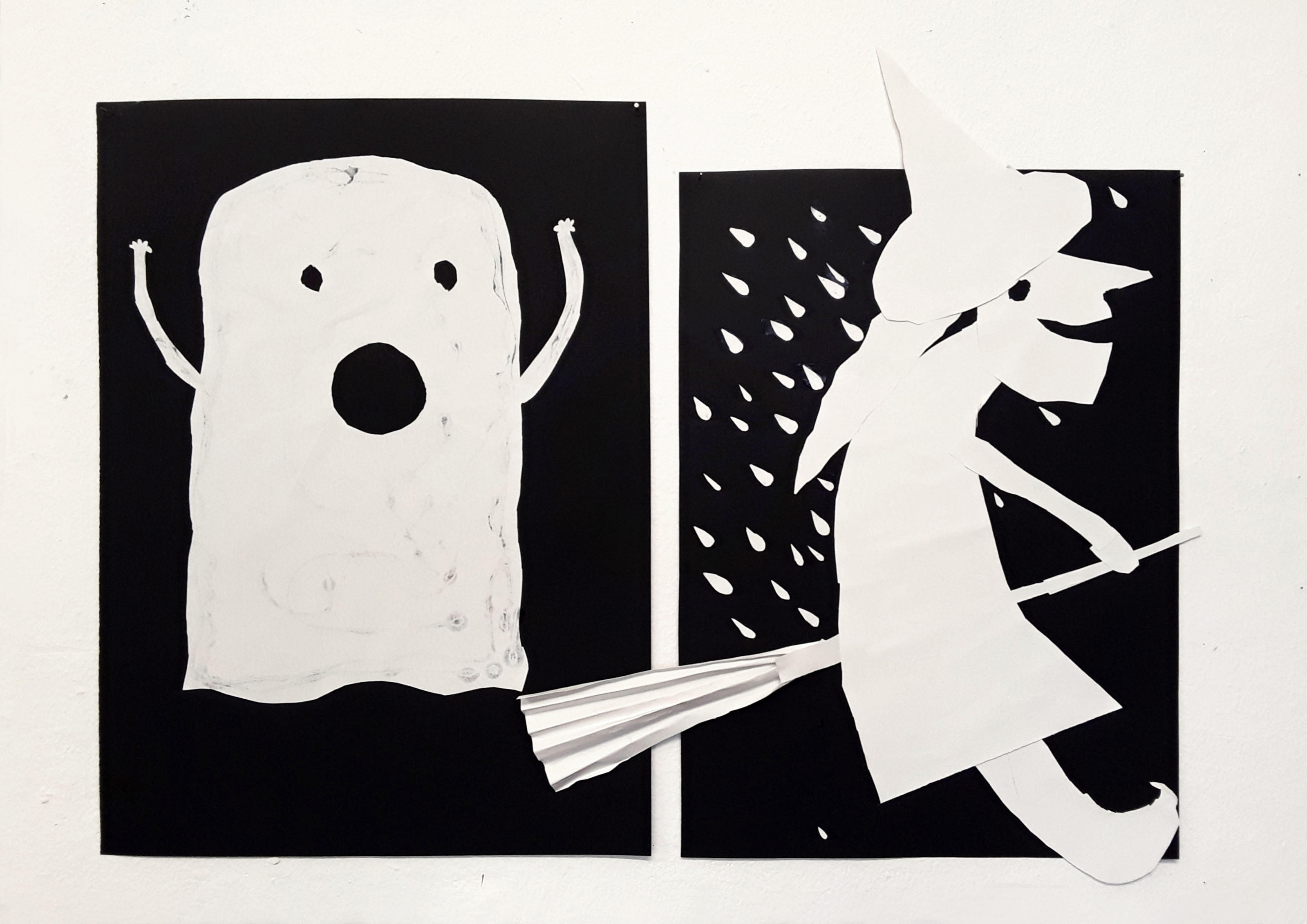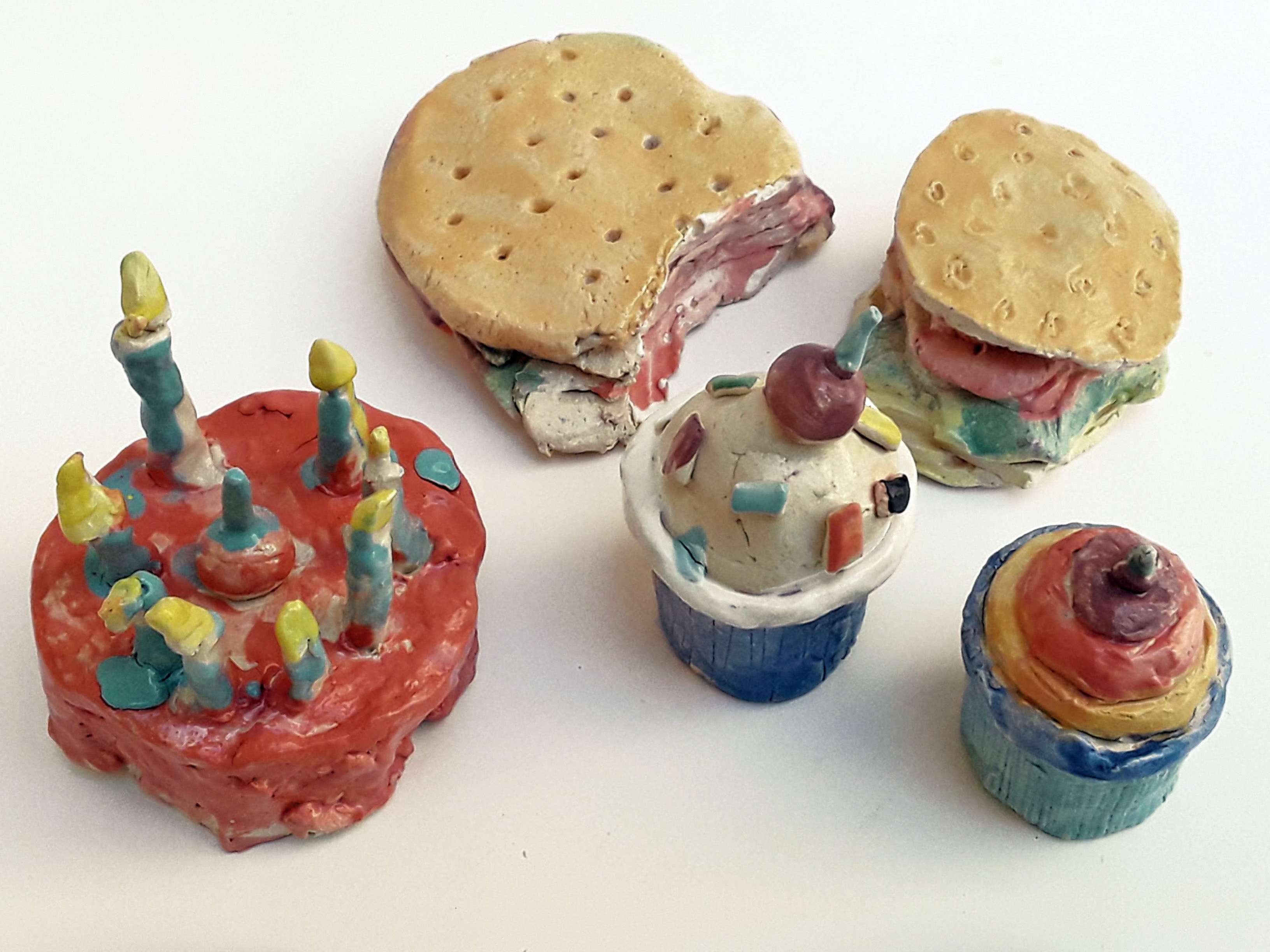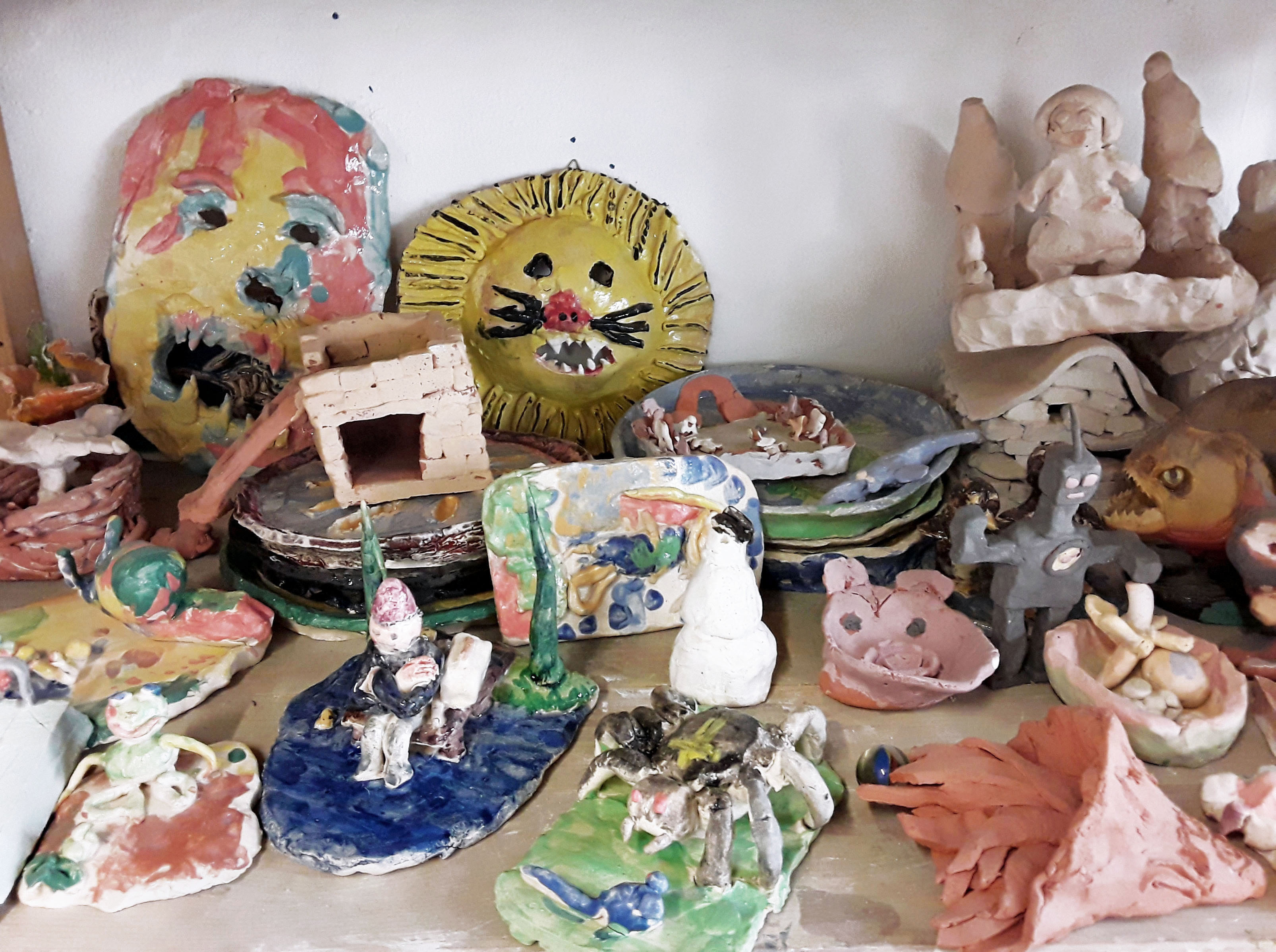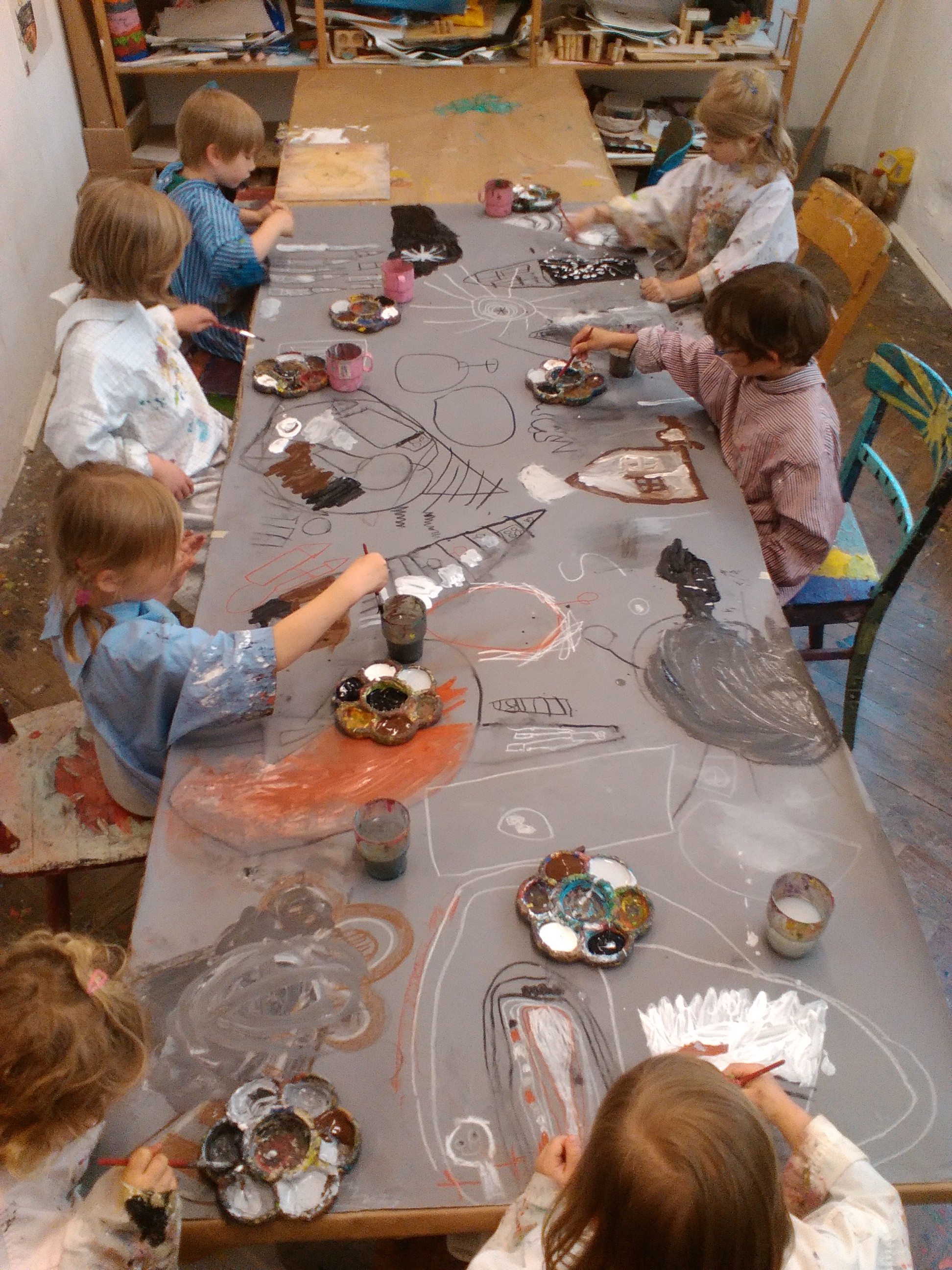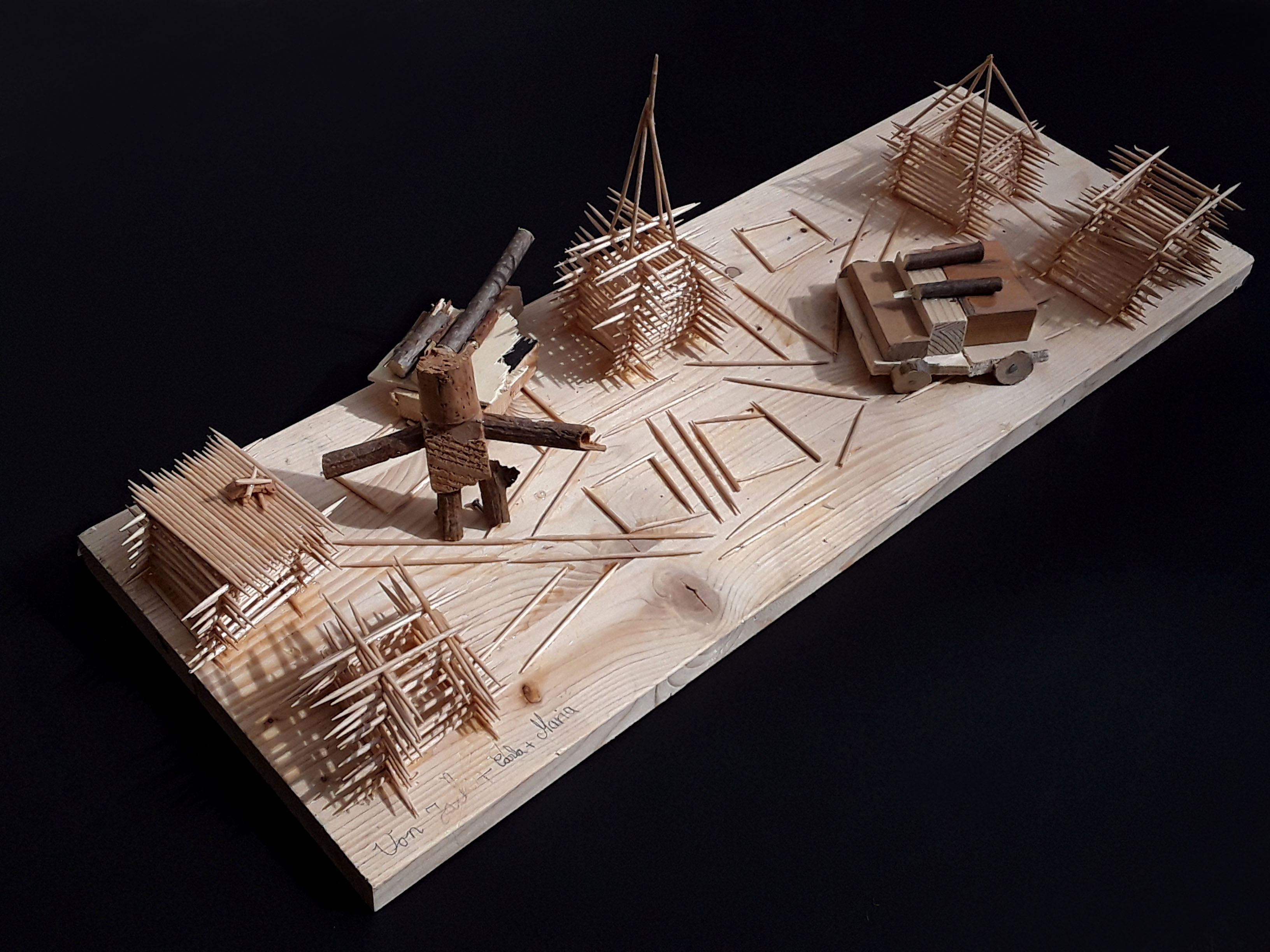 The
children's workshop
of the Künstlerhaus Stuttgart has been in operation since the institution's founding in 1978. Consistent with the Künstlerhaus Stuttgart's emphasis on artistic production, the pedagogical approach of the Children's Workshop has always been one of experiential learning through the actual realization of artistic projects with practicing artists. Children starting at the age of 4 experiment with materials, techniques, and concepts while working on long-term projects guided by practicing artists. The children's workshop takes place Monday – Friday from 3pm to 6pm, and is located directly around the corner from the main building at Augustenstraße 67b.
Workshop Manager
With the help and guidance of an artist, we process and test materials and design techniques in a free and playful way. The stock contains materials for the visual field – painting, drawing, collage and printing – as well as for plastic experiments in plaster of paris, wood, clay and paper mache. The focus is on developing your own creative power and will to express yourself. It is less about the end product and technical issues, but about the individual process at work and each individual symbolism. This process-oriented way of working allows children to have a long-term connection with a topic or material without being interrupted by short-term objectives or evaluations.
In the groups, which often work together constantly for several years, the children experience their own individual personality in the field of tension with other children and their preferences, knowledge and skills. Each child has the opportunity to realize their own plans and projects and find inspiration, help and support in the group. Looking at younger and older children promotes the joy of experimentation and the ability to deal with new, unknown situations, to react to them independently and to develop oneself. This makes creative work an indispensable method of awareness, experience and communication.
The team is made up of freelance artists with pedagogical knowledge and experience in dealing with children. The children's workshop, however, does not see itself as a healing or art therapeutic facility, but rather offers a forum for the next generation of artists and those interested in art and enables the children to make new social contacts and friendships.
Text: Stephanie Bollinger-Casale
All
Membership
News
Exhibition
Events
Studios
Workshops
Education
Publications