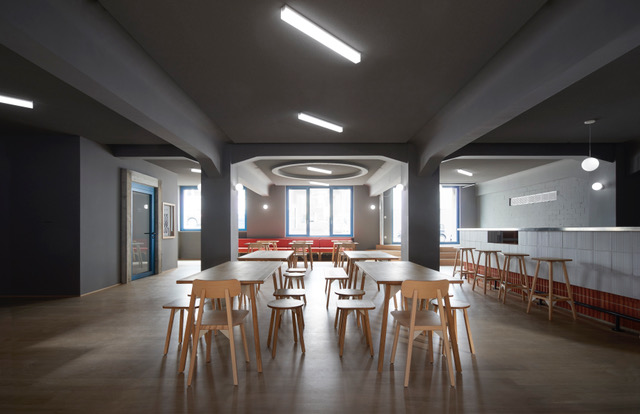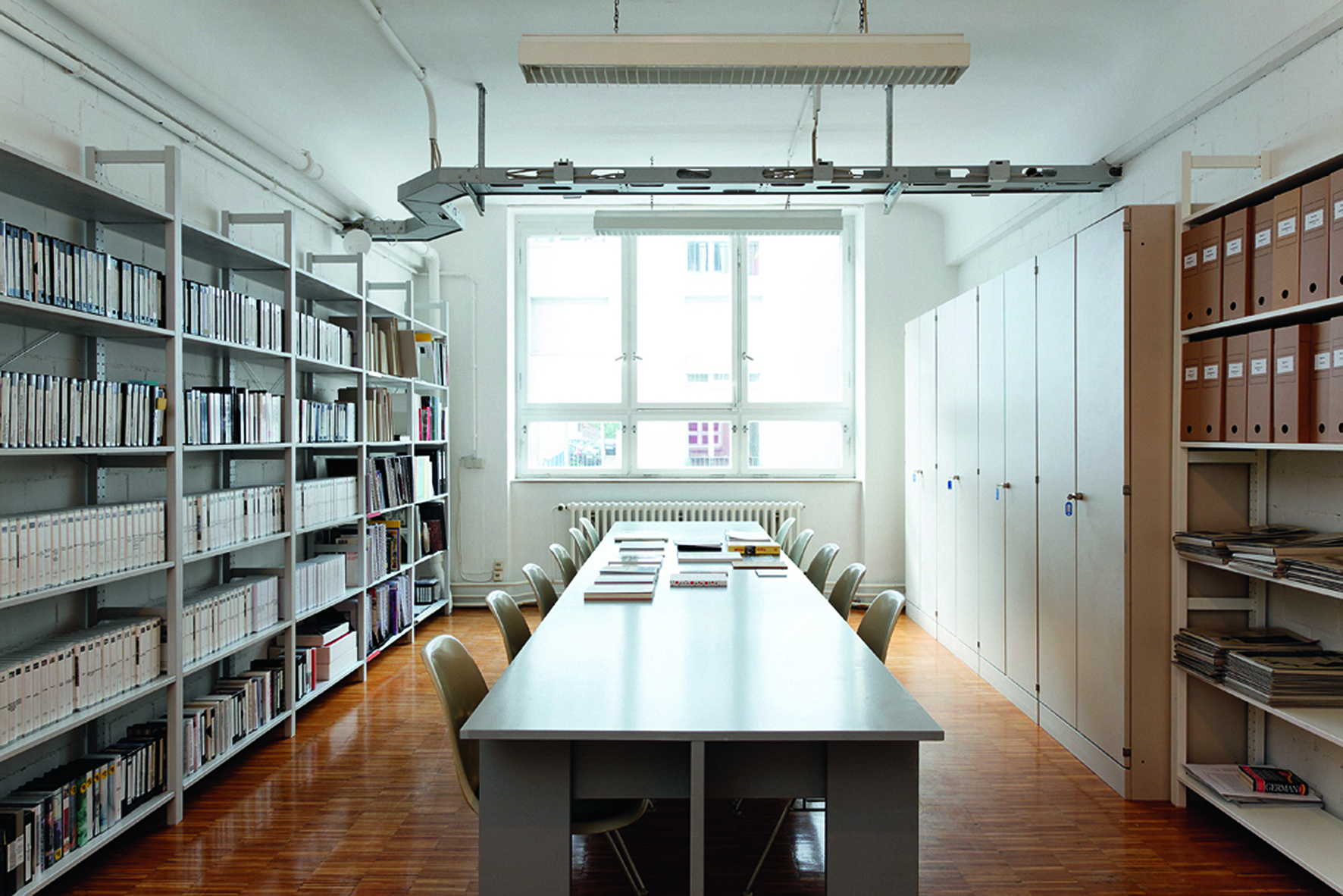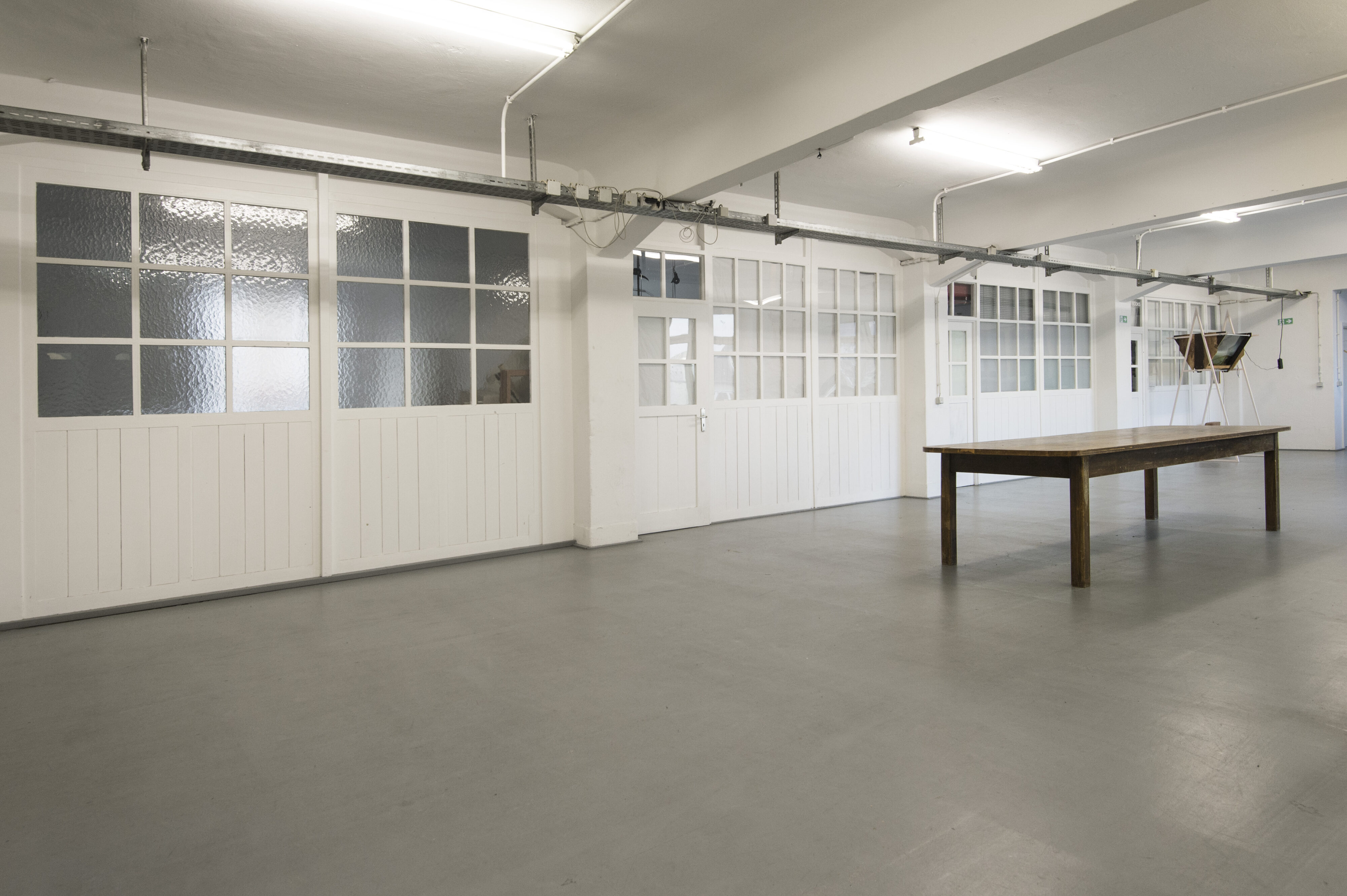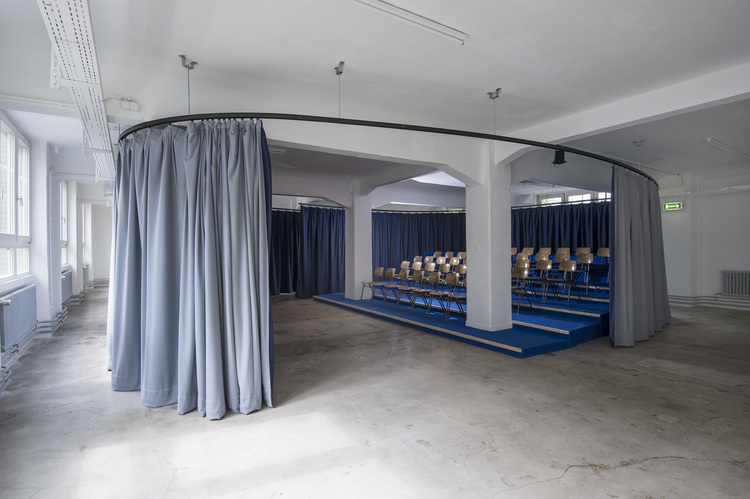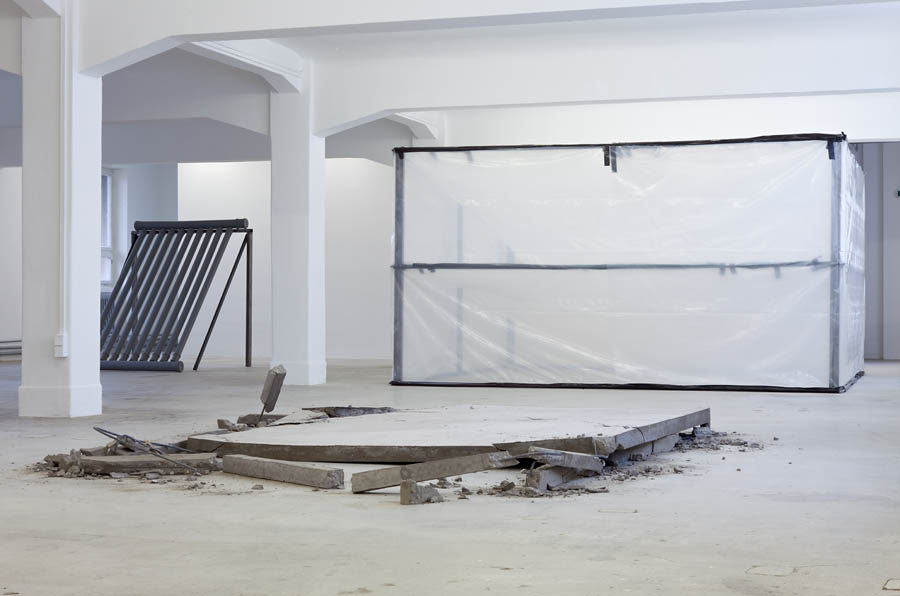 Künstlerhaus Stuttgart
was founded by artists in 1978 as a vital space for rethinking the means by which art is produced. As a unique Stuttgart institution that houses exhibition galleries, workshop facilities, and artist studios, this foundational commitment to advancing the interrelated working conditions, creative interests, and lived relations that constitute artistic production remains central to the mission and operative structure of the Künstlerhaus Stuttgart today. The distinct identity of the institution is continually formed by this insistence that artists' work-life conditions be given equal consideration with experimental approaches to the exhibition, distribution, and reception of art. By giving space for these social and political imperatives alongside its consistent support of cutting-edge practices and debates in the art field, the Künstlerhaus Stuttgart has developed into a site of local, regional, and international significance for artists, art communities, and diverse constituencies.
Institution
Artistic Directorship
Exhibitions and programming at the Künstlerhaus Stuttgart are designated by the artistic director, who is elected for a period of up to five years by a commission comprised of the board of trustees, advisory board, and representatives from the city government of Stuttgart. The temporal specificity of the artistic directorship, as a limited term position, supports a diversity of artistic positions and encourages artistic directors to approach their tenure as a multi-year project. The ongoing history of the institution is shaped by the cultural, interrelational, and infrastructural changes brought by each artistic director.
Previous Artistic Directors
Ulrich Bernhardt, 1978–1986
Veit Görner, 1987–1990
Ute Meta Bauer, 1991–1994
Nicolaus Schafhausen, 1995–1998
Fareed Armaly, 1999–2002
Elke aus dem Moore, 2003–2006
Axel Wieder, 2007–2010
Misal Adnan Yıldız, 2011–2014
Fatima Hellberg, 2015–2019
Eric Golo Stone, since 2020
Workshops
The workshops are integral to the Künstlerhaus Stuttgart as an art institution that has always emphasized production conditions. The workshops—comprising production facilities for audio, film, video, photo, various printing techniques, and ceramics—are managed by voluntary workshop managers. These production facilities offer local and regional artists the devoted space and necessary equipment for realizing their artistic projects, whether long-term or small-scale works. Additionally, the workshops provide visiting artists on-site facilities for the production of exhibition-related work at the Künstlerhaus Stuttgart, or for other exhibiting venues in the Stuttgart area. Introductory courses and thematic seminars led by the workshop managers are offered regularly. While individuals utilizing the workshops also receive general support through the expertise of the workshop managers.
Studios
The interdisciplinary studio program offers individual work spaces to artists, architects, designers, and theoreticians for a period of up to three years. Applications for studios are reviewed annually by a committee comprised of the Board and Advisory Board. Studio grant recipients are assigned their own work space, with access to a shared kitchen and a large communal meeting room on the third floor, while they also have free access to the various workshops at the Künstlerhaus Stuttgart. The individual studio spaces are approximately 25 sq meters.
Library and Archive
Visitors have access to a large array of national and international publications and periodicals on contemporary art. The library houses more than 3500 publications, approximately 350 international films and art videos, as well as brochures, photocopies, pamphlets, and other documents. The archive includes documentation of more than 800 exhibitions and events that have taken place at the Künstlerhaus Stuttgart. As a library that reflects the interests of former artistic directors and artists who have worked at the Künstlerhaus Stuttgart, it is a valuable resource for regional artists, students, cultural enthusiasts, and visiting scholars.
Open Calls
Residencies for Art, Architecture and Theory
Künstlerhaus Stuttgart is offering 7 studio residencies for a period of 12 months, starting May 1st 2023. Each individual studio is approx. 25 sqm. A large recreation room is accessible for all recipients. Additionally, stipendiaries have free access to all technical facilities of Künstlerhaus Stuttgart. The studios are free of rent, but a membership at Künstlerhaus Stuttgart will be necessary.
It is possible to extend the studio grant through applying for another year. This option can be used not more than twice, so a maximum period of three years is possible.
Künstlerhaus Stuttgart was founded in 1978 as an initiative of local artists. Since then it has developed into one of the most distinguished institutions for contemporary art nationally and internationally. In addition to the exhibition program and complementary series of lectures, screenings and discussions, Künstlerhaus Stuttgart hosts production workshops including audio-visual media, various printing techniques, ceramics, and a separate workshop for children.
Künstlerhaus invites applications from the fields of art, architecture, theory and design, that involve ideas and projects to which the specific infrastructure of Künstlerhaus Stuttgart can serve as a helpful context. Applications of groups and single applications are both welcome.
Application
Please include with your application the following documents:
CV
documentation of your artistic work, such as portfolio, catalogues (max. 2 books), images etc.
a written description how you want to use your studio at Künstlerhaus Stuttgart (max. 2 pages)
Please send us your application via email, please send pdf files only, latest by January 31st 2023:
Contact Person: Romy Range
Email: bewerbung@kuenstlerhaus.de
Subject line: Studio application
The jury, which consists of members of the artistic board, will meet in February and all applicants will be informed about the decisions as soon as possible.
Please note that the studio program does not include accommodation or any kind of financial aid. International applications are welcome provided that applicants see to their accommodation themselves. An introdution to all workshops is liable for costs. The residency has to be in Stuttgart within the year.
Workshop grant
Künstlerhaus Stuttgart is now awarding regular workshop scholarships for the following workshops: Audio, Ceramics, Media, Photography, Silkscreen, Etching, Lithography.
Artists and collectives can apply for a project for a specific duration. The occupancy of the workshop will be coordinated with the respective workshop manager.
The workshop grant includes:
– the use of the workshop free of charge (use in coordination with the workshop manager)
– an introductory technical course in the respective workshop
– Advice from the workshop manager (not complete project supervision)
The following information is required for the application:
– Project description incl. project duration
– CV
– exposé
An application for a workshop grant is possible all year round. The jury, consisting of the board of directors and the respective workshop manager, meets regularly to decide on the submitted projects. Applicants should contact the workshop manager before applying to clarify whether the project can be realized in the workshop. Unfortunately, any material costs cannot be covered.
Please submit the application documents only digitally as a pdf file by e-mail:
Contact: Romy Range
e-mail: bewerbung@kuenstlerhaus.de
Subject: Workshop grant
Renting
The premises of Künstlerhaus Stuttgart offer event spaces with a special ambience for private and social occasions. Whether you are organizing a workshop, lecture, or company event, create an unforgettable event for your guests in a remarkable setting. The two exhibition galleries each provide space for up to 100 people. Our restaurant Im Künstlerhaus can be hired for private celebrations and dinners. Künstlerhaus Stuttgart is also available as a location for filming and photoshoots. The premises can also be hired outside regular opening hours.
Event equipment and furniture
If you have any questions regarding event and presentation equipment, seating, or other furniture, please contact us. We will be happy to advise you.
Catering
Our restaurant Im Künstlerhaus is available for your catering needs. The restaurant team can issue you a tailored quote on request.
Contact
We would be happy to meet with you to offer advice on the planning and organization of your event, and to provide you with a suitable quote:
Romy Range
+49 711 617 652
info@kuenstlerhaus.de
Visit
Address
Reuchlinstraße 4b
70178 Stuttgart
T +49 711 617 652
Opening hours
Exhibition
Wed – Sun 12–6pm
Free entry
Please note:
General hygiene rules continue to apply under the Baden-Württemberg Corona Ordinance.
Educators are available to meet with visitors to the exhibitions from Wednesday until Sunday from 12 – 6pm.
Location & directions
You can reach the Künstlerhaus Stuttgart by public transport.
S-Bahn station Schwabstraße
Bus route 44, stop Schwabstraße
Current Hygiene and conduct regulations
In coordination with the responsible authorities, Künstlerhaus Stuttgart has developed comprehensive protection and hygiene measures to make your visit as pleasant but also as safe as possible. They help to contain the coronavirus and are intended to protect you and our staff from infection. For the benefit of all, please only visit the Künstlerhaus Stuttgatt if you feel healthy. If you feel ill or have had contact with a Covid-19 patient in the last few days, please refrain from visiting. In the building there is a mask obligation and a minimum distance of 1.5 meters. Please avoid forming groups with people, who are not familiar to you and pay attention to the instructions of our staff regarding the maximum number of people allowed in each room as well as to the new guidance system. We hope you will understand if our staff also draws your attention to these rules. Please make regular use of the disinfectant provided.
Accessibility
Künstlerhaus Stuttgart is dedicated to creating an open and accessible environment. All levels of the building are accessible by elevatorand are wheelchair accessible. In our building and outreach, we continue to make every effort to improve all facets of accessibility. Please send all access inquiries and requests to:
Tel +49 711 617 652
info@kuenstlerhaus.de
Member of the Arbeitsgemeinschaft deutscher Kunstvereine
Member of the Alliance for equitable arts and cultural work Baden-Württemberg
More information here
Contact
Künstlerhaus Stuttgart
Reuchlinstraße 4b
70178 Stuttgart
T +49 711 617 652
F +49 711 613 165
info@kuenstlerhaus.de
Office
Mon closed
Tue – Fri 12–5pm
All
Membership
News
Exhibition
Events
Studios
Workshops
Education
Publications